GOLD PRICES rose back above $1300 per ounce in London trade Wednesday as the Dollar retreated from this week's jump on the FX market after US data came in weaker than expected and European markets rallied from Italy's political sell-off.
Ahead of Friday's official non-farm payrolls estimate for May, today's
private-sector ADP report
said the US added 178,000 net jobs this month, below the 190,000 analysts forecast.
The Bureau of Economic Analysis said gross domestic product expanded 2.2% annually between January and March,
slower than first estimated
and with the slowdown from end-2017's 2.9% growth "reflecting decelerations in personal consumption expenditures" – a key measure tracked by US central bank the Federal Reserve.
Asian stock markets closed sharply lower but European equities rallied as Carlo Cottarelli – the
former IMF official appointed
by the President of Italy yesterday as interim prime minister amid its political crisis – worked to keep the left and rightwing M5S and League parties in coalition.
"The possibility of a return to the M5S-Lega Government alliance would avoid a return to the polls in July," explains
Il Sole 24 Ore
today, "and so the
markets are hoping for a stabilization
of the political situation" with the spread between Italian and German bond yields declining to 2.6 percentage points from yesterday's peak above 3.0 as the Euro rallies against the Dollar.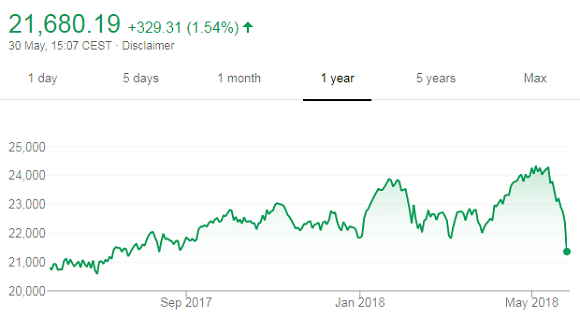 Italy's stockmarket rose for the first time in more than a week, adding 1.3% to the FTSE MIB index from yesterday's 10-month low but still heading for a 10% loss in May.
Spain's Ibex index also rose for the first trading day in six.
"Selling out of China [today] outweighed the geopolitical risks continuing to develop in Europe," says Wednesday's Asian trading note from Swiss refining and finance group MKS Pamp, with "an early session attempt to consolidate above $1300 abruptly reversed once Shanghai opened."
After holding firmer against the rallying US Dollar than any other major currency during May, the Chinese Yuan has now retreated nearly 3% from April's 33-month high, falling to its lowest USD exchange rate since mid-January.
For gold prices, says MKS, "Expectations are that the developing issues out of Italy and to a lesser extent Spain [plus] the continued softening of US [bond] yields
will underpin the yellow metal
.
"However currently the downtrend needs to be respected."
"An initial pullback is being witnessed," agrees French bank Societe Generale's head of technical analysis Stephanie Aymes in a new note on gold prices, saying that "a move beyond [the] channel at $1303/1309 is essential for a larger recovery," also pointing to gold's Dollar downtrend starting from April's peak at $1365.
Amid the panic in world stock markets over Italy's new Eurosceptic coalition potentially calling fresh elections for this summer, the world's largest gold-backed investment trust – the giant SPDR Gold Trust (NYSEArca:GLD) – expanded on Tuesday to need 2 extra tonnes of gold backing, growing 0.3% from last week's 1-month low of 848 tonnes.
The Turkish Lira today extended its rally from last week's
new all-time record low
on the FX market, pulling gold prices back from record highs for the world's fifth largest consumer households after the central bank
announced a new benchmark interest rate
, doubling the cost of 1-week repo agreements to 16.5% per annum.
Returning to Ankara today, Turkey's deputy prime minister Mehmet Şimşek said meetings held in London yesterday had been
"fruitful" in reassuring
some 90 fund managers, bankers and analysts about the central bank and government's commitment to tackling "the most important priorities…inflation and the current account deficit."
Madrid's criminal court meantime
today set bail
for the wife of Luis Bárcenas – sentenced last week to 33 years in jail for involving the ruling People's Party – at €200,000 today, citing the "significant amount of economic resources" which the couple accumulated but which has yet to be located.
People's Party treasurer from 2008 to 2009 and a key figure in the co-called 'Gürtel case' – named after businessman Francisco Correa, now sentenced to 51 years in prison –
Bárcenas has been fined €44 million
for money laundering, tax fraud and false accounting.
Prime Minister Mariano Rajoy faces a vote of confidence in the Spanish parliament this Friday.