GOLD FLIRTED with its lowest weekly close since start-December but crude oil rose yet again Friday as US foreign policy spurred fears over global energy supplies, while a separate report claimed that President Trump wants to quit the World Trade Organization.
Gold bounced $5 per ounce from a new 7-month low of $1246 as the Dollar eased back on yesterday's near-12 month highs on the FX market.
The Euro meantime jumped after a meeting of the European Council ended at dawn in Brussels with what French president Emmanuel Macron called "
a coherent approach
to the migratory phenomenon", promising extra money to Turkey and North African countries to try and stem illegal migration, plus a series of secure detention centers in southern EU states.
With UK Prime Minister Theresa May meeting her cabinet this weekend in the hope of finalizing a Brexit strategy on which the Government has
so far "made no progress"
according to one un-named minister, "
Huge and serious divergence
remains" between London and its soon-to-be-ex-partners, said the EU's chief negotiator Michel Barner today, "in particular on Ireland and Northern Ireland."
That pulled gold's relative value to oil – priced in barrels of crude – down to 17.
The lowest Gold/Oil Ratio since November 2014, that level represents gold's average daily value in crude oil across the last three decades.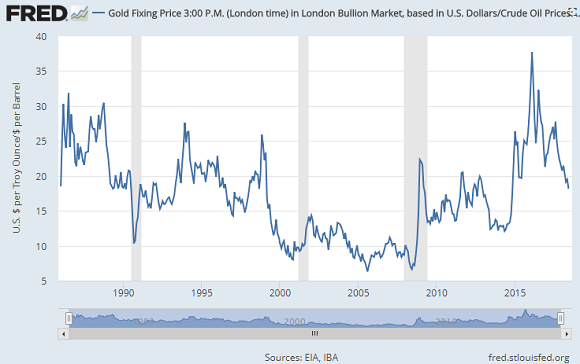 New US data today showed household spending growing less than analysts expected in May while the
cost of living accelerated to 2.0%
annual inflation excluding food and fuel prices.
European equities rose again as
China's stock market
rallied hard but ended 2.7% down from last Friday with its lowest weekly close in 2 years.
"It would totally [screw] us as a country…[but Trump says] the WTO is designed by the rest of the world to screw the United States."
Despite a bounce in the Chinese Yuan from yesterday's new 7-month lows versus the Dollar, Shanghai gold premiums fell to end the week offering an incentive of just $5 per ounce for new bullion imports to China, the No.1 gold consumer nation.
India's Rupee also rallied, recovering from new all-time lows against the Dollar and helping ease domestic gold prices in the No.2 consumer nation 1% lower from last weekend's level and almost 5% below last month's 2-year highs.
Asked about the Rupee's plunge, "Knee jerk reactions
are not called for
," said New Delhi's finance minister Piyush Goyal to reporters today.
"There is modest rise in demand from jewelers," Reuters quotes a bullion wholesaler in Kolkata, "but still
gold is trading at a discount
" to official import prices – which include 10% duty – of around $2 per ounce.
"Improving retail demand is giving jewellers some confidence," Reuters quotes a Mumbai dealer, "but falling Rupee is still confusing some."