GOLD TRADING saw prices again outpace the rising US Dollar on Monday, nearing Friday's 4-week highs above $1180 per ounce as world stock markets fell, government bond prices rose, and crude oil sank more than 2%.
"Short term gold is staging expected rebound," says a new technical analysis from French investment bank and bullion market maker Societe Generale, with its "initial target at $1181" now achieved while "$1200 remains a key resistance."
"Resistance is at $1191," counters the latest trading analysis from Canada-based bullion bank Scotia Mocatta's New York office, calling gold prices "bullish [as] momentum remains positive" with $1165 offering "near-term support".
New data released Friday evening said that hedge funds and other money managers trading Comex gold futures and options came into 2017 only slightly more positive as a group on than end-December's 11-month low.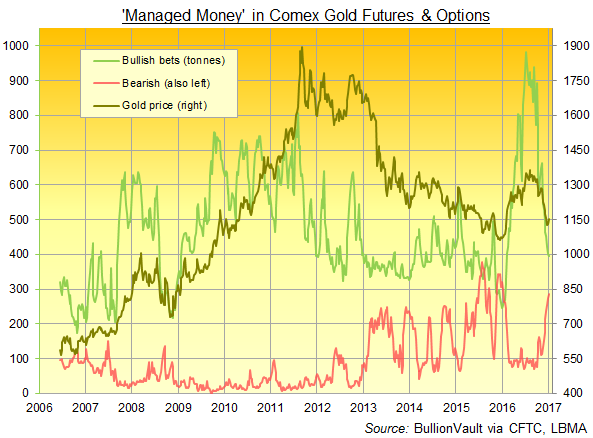 "The yellow metal continues to benefit from physical demand," says Swiss refining and finance group MKS in a trading note, pointing to "Asian interest and a pull-back in ETF outflows" after the
relentless exchange-traded trust fund liquidation
 of gold following Donald Trump's victory in November's US presidential election.
Again attacking global auto-makers which import vehicles to the US market
on Twitter today
, Trump has
acknowledged intelligence reports
claiming that Russian hackers had attempted to interfere with November's elections, according to a spokesperson.
Russia's crude oil output fell by 0.9% so far in January,
sources quoted by Reuters
claim, in line with Moscow's commitment to assists the Opec oil cartel's lower quotas, aimed at supporting prices.
US production continues to rise however, with the Baker Hughes count of oil rigs
rising last week to 665
, the highest since end-2015 and two-thirds larger than last June's 7-year low.
"If Trump reneges on the one-China policy after taking office," says Beijing-controlled website Global Times meantime, commenting on Taiwan leader Tsai Ing-wen's contact with the US president-elect, "the Chinese people will demand the government to take revenge. 
Shanghai gold premiums rose Monday back towards $20 per ounce, offering a sizeable incentive to new imports ahead of the key Chinese New Year holidays.
The People's Bank failed to add any gold to its bullion reserves for a second month running in December, new data showed meantime, passing up the metal's 10-month Dollar discount as capital outflows saw China end 2016 with
a drop of almost 10% in its official reserves
of foreign exchange assets, down to a 5-year low of $3.01 trillion.
Meantime in India – former No.1 gold consumer nation, now set to report tax revenue from gold imports
down by one half in 2016
– lenders are reporting a rising default rate amongst borrowers using gold as collateral to secure cheaper rates, a
sign of economic stress amongst middle-class families
following the shock demonetisation of the country's largest banknotes in November, according to
The Hindu
newspaper.
The sudden
cancellation of 86% of currency
 in circulation – aimed at killing forgeries, so-called 'black money' and tax evasion – has also hit India's digital economy,
according to Money Control
, as "private funding dried up for unlisted players [and] the listed players are expected to be impacted by demonetisation."