GOLD BAR prices slipped against all major currencies in London's wholesale market on Thursday as solid US data followed a rise in Eurozone consumer-price inflation, and Italian bonds rallied for a second day, pulling borrowing costs lower again from Tuesday's spike to 5-year highs as the Eurosceptic M5S and Lega coalition worked to form a government.
With consumer prices rising 1.9% this month from last May across the 19-nation Eurozone – the fastest inflation in a year – the Euro currency recovered the last of this week's previous 2 cents drop at $1.17 to the Dollar.
Dollar gold prices
back slipped to $1300 per ounce in London's large-bar market, some 1.5% above last week's new 2018 lows, as US jobless benefit claims came in below forecast.
Gold priced in the Euro meantime traded down to €1112, below last week's finish and more than €20 per ounce beneath Tuesday's spike to 10-month highs amid the
Italian bond market crash
.
"After yesterday's truce" in Italy's political wrangling, says
Il Sole 24 Ore
, "investors are taking the
possible creation
of a new government positively.
"Negotiations under way include the economist [and Eurosceptic]
Paolo Savona
but in a department other than the Economy – possibly the foreign ministry."
Easing fears over Italy's debt
helped Asian stock markets rise
Thursday, says the
Nikkei Review
, with India's "heavyweight" HDFC Bank rising over 4% to all-time highs "a day before foreign institutional investors are allowed to buy the stock."
"People are
investing in risky assets like the stock market
and real estate rather than gold," said the Reuters news-wire this week after data from China showed net gold imports to the mainland via Hong Kong slumping by one-third in April from March.
"Swiss trade data points to soft demand in key markets," says a new report from specialist consultants Metals Focus, noting howstatistics from the world's No.1 gold bar refining hub "provide a useful barometer for global physical demand."
Metals Focus
' report says Swiss gold bullion exports rose only 2% between January and April from the same period last year, "almost entirely driven by [previously] robust growth in China.
"Excluding that country, Swiss exports were actually down by almost a third."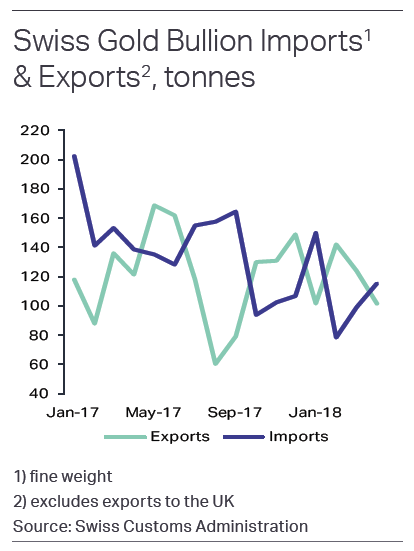 India's gold bar imports from Switzerland were "less than half the figure seen in 2017," Metals Focus says.
"Weakness in the Middle East owed much to poor economic conditions and their impact on consumer confidence…[while] in Europe [a lower import figure from Switzerland] reflects softer demand for
gold bars
among retail investors, particularly in Germany."
European finance ministers today gathered in Paris for a meeting of the World Trade Organization will likely
focus on trying to delay
US President Trump's new trade tariffs, says Bloomberg.
This weekend's G7 summit of the major economies in Whistler, Canada will also see
Trump's "trade war" upset Prime Minister Trudeau
's agenda on "climate change, women's empowerment, peace, economic growth for all and jobs for the future," according to Politico.
But Trump's agenda
may in turn be overtaken by Italy
's sudden political and bond-market crisis "as well as other worries about [debt defaulting] Argentina and [weak-Lira hit] Turkey," says Canadian Business.