GOLD FUTURES retreated from new 1-month highs as London's bullion market re-opened after the long Whit weekend on Tuesday, trading down to $1260 per ounce as world stock markets slipped.
Silver fell faster than gold futures prices, losing over 1% from early Tuesday's new 5-week high at $17.47 per ounce as US crude slipped further below $50 per barrel despite last week's commitment from the
Opec oil cartel to keep output capped
until 2018.
Crypto-currency Bitcoin meantime rallied to $2,298 per unit, regaining two-fifths of Friday's 29% plunge from BTC's new all-time highs.
Ethereum, the next largest "digital asset" promoted as a new form of currency, has
risen 30% so far this week
, almost tripling in price since the start of May.
With Memorial Day meaning that US traders joined China's Shanghai Gold Exchange and the London bullion market in taking a holiday on Monday, electronic trading in Comex gold futures and options saw June prices hold little changed on very low volumes.
Despite the SGE
staying shut
for the Dragon Boat Festival, prices then jumped at the start of Tuesday's Asian trade, touching the highest since May 1st at $1270 before retreating $7 per ounce as London then returned from yesterday's Whitsun Bank Holiday.
Hedge funds and other money managers last week raised their bullish bets and cut their bearish bets on Comex gold futures and options, according to US regulator the CFTC's weekly data release on Friday.
That saw the 'Managed Money' category of traders' net speculative long position on gold recover half of the previous 3 weeks' sharp drop, taking it back almost in line with the last 10 years' average at a notional value equal to 365 tonnes of bullion.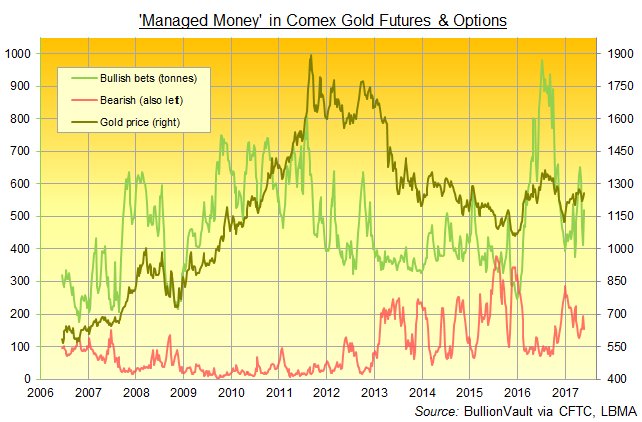 "On balance, given the recent unwind in Comex length…we prefer to err on the bullish side," said a note Friday from Chinese-owned London bullion clearers ICBC Standard Bank, also pointing to the market "maybe mispricing the likelihood of the Fed staying on hold" with its June interest-rate decision, plus a turn lower in "the trend in the Dollar."
In contrast to gold, Comex silver contracts saw a drop in both bullish and bearish bets amongst 'Managed Money' traders in the week-ending last Tuesday. Overall, their net speculative long position recovered only one-seventh of the previous 5 weeks' drop from new all-time records, but held 23% larger than the last 10 years' average at the notional equivalent of 4,617 tonnes.
Hong Kong Exchanges and Clearing (HKEX) needs to offer extended hours on its forthcoming gold futures product, today's South China Morning Post quotes traders in the city, because "the gold market trades around the clock.
"This is why our customers are trading [via Comex] in the US which trades 23 hours a day,"
the SCMP quotes
Alfred Yeung Ping-kwan at trading house Glory Sky Group.
Scheduled for launch in July, the new HKEX contracts will be its third attempt to find demand for Hong Kong-based gold futures.