GOLD and SILVER held near 3-week highs against the Dollar in London on Thursday, bucking a sell-off in all other tradable assets bar major government bonds amid fresh worries about Eurozone growth and this month's Brexit vote on European Union membership in the UK.
With gold and silver trading near $1260 and $17 per ounce respectively, Western stock markets followed Asian shares lower, losing over 1% for the day in Frankfurt and Paris, following what news-wires called an "urgent warning" on the Eurozone's long-term economic outlook from European Central Bank chief Mario Draghi.
The Euro currency dropped half-a-cent from 4-week highs on the FX market, while German 10-year Bund yields fell within 2 basis points of zero as 'safe haven' bond prices rose, also driving 10-year US Treasury yields down to 1.67% – their lowest level since February's slump in world stock markets.
Holding 0.5% and 1.2% respectively below their overnight highs – set as Asian trading began – gold and silver have so far risen 5% and 7% from end-May's three-month lows against the Dollar.
Silver has added over $1 per ounce in the last week alone.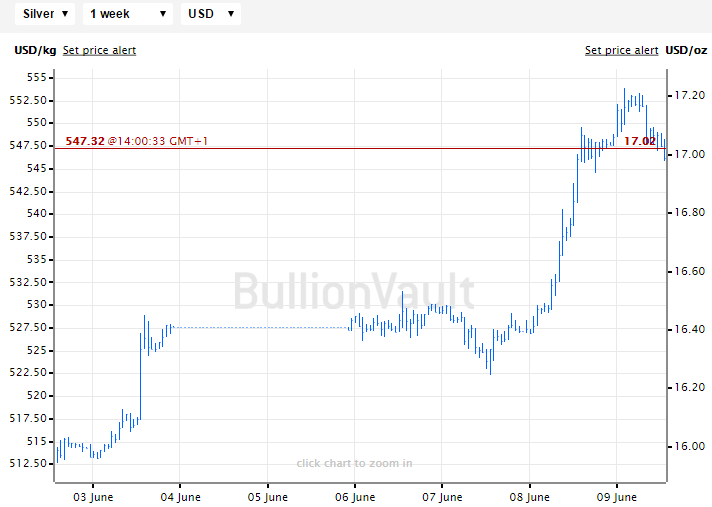 "It is in fact in everybody's interest to act without undue delay," said the
ECB's Draghi in Brussels today
, urging Eurozone politicians to speed economic and labor-market reforms, "removing [these] uncertainties without undue delay."
Already creating €80 billion per month of new QE money and
now buying corporate bonds as well
as government debt, "For the ECB, this means that we do not let inflation undershoot our objective for longer than is avoidable given the nature of the shocks we face," he added.
"I'm confident," said hedge-fund speculator George Soros meantime to the
Wall Street Journal
– commenting on the UK referendum on EU membership due 23rd June – "that
as we get closer to the Brexit vote
, the Remain camp is getting stronger.
"[But] if Britain leaves, it could unleash a general exodus, and the disintegration of the European Union will become practically unavoidable."
Urging the ECB to begin outright cash gifts to government or households to kick-start growth, "I don't think they have any choice but to go to
helicopter money
," said trading advisor Dennis Gartman to CNBC Thursday morning, adding that with "gold in Dollar terms rising and the Euro falling,
gold in Euro terms gets very strong
."
Gold priced in Euros today held at €1110 per ounce, a 10-month high when first reached in February, and giving only a 16% rise for 2016-to-date against the US Dollar price's 19% rise.
Touching £870 per ounce for UK investors in contrast – its highest price throughout 2015 – gold has gained 21% so far in 2016 against the British Pound, more than against any other major currency, and over twice the rate of gain versus the "
commodity currency
" of Canada.