GOLD and SILVER headed for their first weekly fall in 7 on Friday in London, dropping to $1330 per ounce and $20.20 respectively as world stock markets slipped back.
Rallying 0.6% from yesterday's 2-week low, gold priced in Dollars
was on track Friday to miss matching
the 7-week run of gains seen as the metal neared its current all-time highs above $1900 per ounce in summer 2011.
Silver held closer to last Friday's 2-year highs, outpacing gold's 1% gain for July so far with a near-8% rise.
New York's S&P500 index has now risen 3 weeks running, setting another new all-time closing high on Thursday.
Food commodities fell, with corn prices dropping 1.6% to stem this week's rally from late-June's 20% plunge from 2-year highs.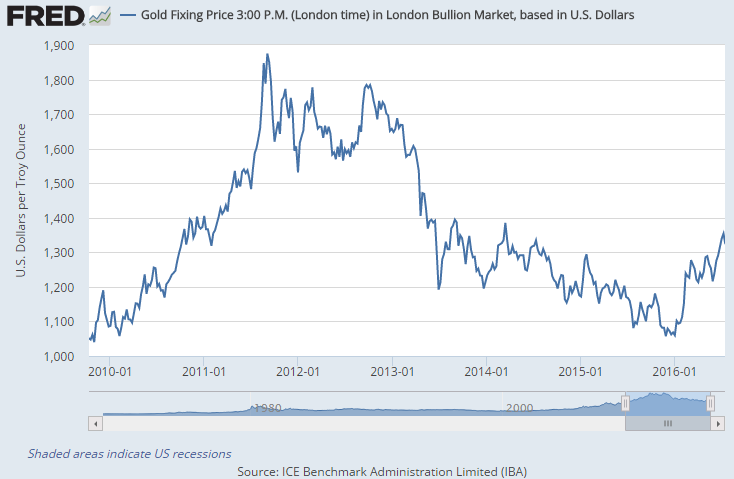 "Retail [jewelry] demand is unlikely to pick up unless prices correct sharply," says one Indian wholesaler
quoted by Reuters today
, with another telling the newswire that investors in India – formerly the world's No.1 consumer market – "started selling as soon as gold prices went above 30,000 Rupees [per 10 grams]."
Reaching that level on gold's global price surge amid the Brexit referendum shock, Indian prices have held at these near-record levels so far in July.
"Strong Indian or Chinese gold demand will rarely help drive prices materially higher," says the latest Precious Metals Weekly from specialist analysts Metals Focus.
"However, this misses their key role in helping to provide a solid floor for the gold price."
India's silver market is glutted with supply,
Bloomberg reports, citing estimates
from Metals Focus' analyst Chirag Sheth that imports "probably slumped by about 40% from [the record highs of] a year earlier in the first half," with total 2016 imports likely to retreat by almost one-third.
Western investors trading price-tracker the iShares Silver Trust (NYSEArca:SLV) have expanded the fund's silver backing by 2% this week, taking the bullion held
towards 5-year highs
at 10,842 tonnes.
But giant Western gold-tracking vehicle the SPDR Gold Trust (NYSEArca:GLD) has shrunk in contrast, now losing 20 tonnes from early July's three-year record high holdings of 982 tonnes.
"Soaraway silver [looks] ill at ease with fundamentals," says the latest precious metals analysis from French investment and bullion bank analyst Robin Bhar, warning that silver's "sharp price gains [are] unlikely to be maintained.
"Given that gold and silver prices have hit their highest levels since 2014, sales [of bullion coins] by the US Mint could begin to soften over the coming months. Indeed, sales in June contracted 5% for gold and a steep 41% for silver bullion coins."
Gold prices fell overnight in Chinese Yuan terms in Shanghai, but extended their premium over London quotes to more than $5 per ounce at the city's official benchmarking auction.