GOLD and SILVER prices rose in China but held flat with last week's close in Dollar terms in London on Monday, trading quietly as the US marked the end of summer with the Labor Day holiday.
The British Pound meantime
jumped to a 7-week high
– capping gold prices for Sterling investors at £995 per ounce – after new survey data said UK services sector activity rebounded from the Brexit referendum drop at the fastest pace in at least two decades in August.
"
Input prices rose
at the sharpest rate since November 2013," says the Markit/CIPS UK Services PMI survey.
Insurance market
Lloyd's of London said today
it will move European Union work onto the Continent if Brexit sees the UK lose access to the single market in financial services.
Noting that half of Japan's direct investment in the EU currently goes into the UK, the Ministry of Foreign Affairs in Tokyo on Friday published
15 pages of requests for London
and the remaining Union to "heed [and] respond" to
"Nothing much has changed apart from the price," says London gold and silver broker David Govett at Marex Spectron after Friday's weaker-than-expected US jobs data.
"The market is still range bound and very much beholden unto the Fed and the Dollar."
"Precious all opened where they left off on Friday," says Swiss refiner MKS's Asian desk, "with some light profit taking to start the day."
"Smugglers are paid to help [sellers] take the precious metals into Hong Kong to cash in," the SCMP quotes a 'source'.
"There were no seizures last year and in 2014."
After a
global surge in scrap gold recycling
on 2016's price jump, old gold sales in India – formerly the world's No.1 consumer market – have fallen sharply as bullion prices have retreated over the last 2 weeks, says the
Economic Times
.
"General sentiment in the market [is] that
prices of gold will go up during Diwali
," says RiddiSiddhi Bullion director Mukesh Kothari, referring to India's traditionally heaviest gold-buying festival, falling this year at end-October.
"That is compelling sellers to hold back their decision to offload household old gold."
Weekly US trading data released late Friday meantime showed the value of net-bullish betting by money managers in US Comex gold futures and options has dropped 20% since hitting a 5-year peak at $38.8 billion in early July.
Silver's net bullish position amongst the 'Managed Money' category of traders has sunk almost 30% from its new all-time record high set 4 weeks later.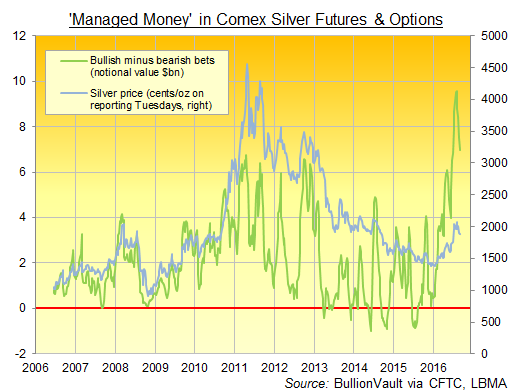 The giant SPDR Gold Trust (NYSEArca:GLD) meantime ended last week needing almost 19 fewer tonnes of bullion to back its shrunken number of shares in issue, dragging the trust fund's total assets down to a 2-month low of 937 tonnes.
Still 46% larger from New Year, that pulled the GLD's 3-monthly addition down to its lowest weight growth since February beneath 57 tonnes.