GOLD PRICES gave back a $5 pop on new US jobs data Friday to near the weekend at $1269 per ounce – a 13-week closing low – as world stock markets slipped from new all-time highs.
Crude oil rose but base metals eased back further from their 25% gains of the last 6 months.
Major government bond prices ticked higher, pushing yields down, while crypto-currency Bitcoin set
another fresh all-time record
at $7454 – up 993% from this day 12 months ago.
October 2017 showed weaker than expected US jobs growth, Friday's official first-estimate said, but the civilian unemployment rate fell to 4.1% of the working age population, the lowest in almost 17 years.
The Dollar rose on the currency market, helping the gold price in Euro terms hold just 0.3% lower for the week at €1093 per ounce.
"Madrid's decisive approach to shutting down Catalonia's bid for independence has
won the approval of bond market investors
," says Reuters, noting that "investors have piled into Italian, Spanish, Portuguese and even Greek debt over the past month."
Shares in China's e-commerce giant Alibaba (NYSE:BABA) have meantime "crushed the FANGs" of US tech stocks Facebook, Apple, Netflix and Google,
says Bloomberg
, gaining 110% so far this year to the 31% rise in Western internet search-leader Alphabet (NASDAQ: GOOGL).
Just missing a new all-time closing high on Thursday, US equity index the Nasdaq has now risen 33% above its March 2000 peak marked the top of the Tech Stock Bubble.
US unemployment last month recorded its lowest level since December 2000.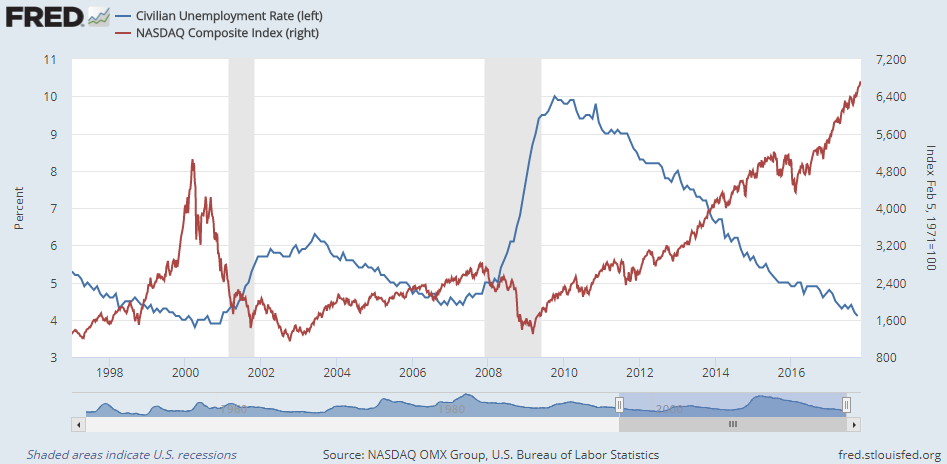 The gold price "is testing [a] downward channel limit" says the technical analysis led by Stephanie Aymes at French investment bank Societe Generale today, pointing to a downtrend joining September's 12-month high at $1356 with October's lower peak of $1306 and now coming in at $1276.
"Next support is located at recent lows of $1263…also the 200 day moving average," says SocGen.
"I know that once upon a time, a coin was worth $5 if it had $5 worth of gold in it," said US investment bank Goldman Sachs' CEO Lloyd Blankfein in an interview this week, saying he doesn't discount Bitcoin's potential as a genuine currency.
Belgium's prime minister Charles Michel has asked ministers in his fragile 4-party coalition
not to comment on the situation
for fear of enflaming separatism in his own country's Flemish region, according to newspaper
Le Soir
.