GOLD PRICES set new 12-month lows against a rising Dollar on Wednesday in London, touching $1222 per ounce as the US currency rose yet again following weaker-than-expected Eurozone and UK inflation data.
Excluding volatile fuel and food prices, the cost of living in the UK slowed to 1.9% annual inflation last month and retreated to 0.9% annual growth across the 19-nation single currency Eurozone.
Rising to a 9-month high versus the British Pound Wednesday morning, the Dollar also hit a 6-month high against the Japanese Yen after US central bank chief Jerome Powell said yesterday that strong jobs growth in the world's largest economy means the Federal Reserve will continue "
running [rate rises] smoothly
" as it cuts back the "extra boost" of monetary stimulus made during the financial crisis a decade ago.
"People are
selling emerging markets
[and] commodities and buying the Dollar," says Chinese bank ICBC Standard's Tokyo manager Yuichi Ikemizu, "as it seems to be the most stable investment.
"As long as this trend continues, it's a pretty tough situation for commodities." Ikemizu said.  
China's stock market
today fell back towards last week's 18-month lows while Bloomberg's index of commodity prices fell to new 2018 lows, pulled down by crude oil and metals.
For gold prices, "New support comes in at $1204.90 – the July 2017 low," says
a technical note
from bullion bank Scotia Mocatta's New York office.
"Technically there is not a great deal of support now until we hit $1204.50," agrees Swiss refining and finance group MKS Pamp, "[and] we expect a decent amount of resistance on any move back toward $1230."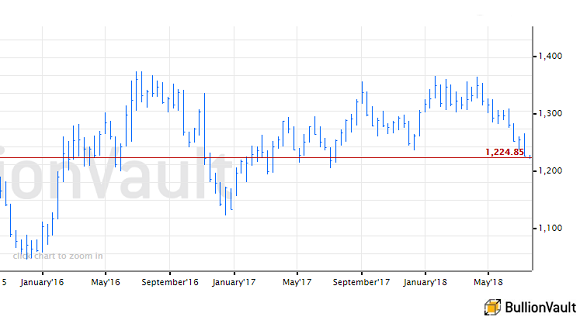 The two largest US-listed gold ETFs – the SPDR Gold Trust (NYSEArca:GLD) and the iShares Gold Trust (NYSEArca:IAU) – have now shrunk for 3 months running, losing over 100 tonnes between them since end-April's 18-month peak at 1,159 tonnes.
Betting that the US Fed will raise its key interest rate twice or more before 2018 ends has meantime risen to 61.3% of speculative positions on CME Group derivatives, up from 55.1% this time last month.
Fixing at a new 2018 low of $15.77 in London on Tuesday, silver prices today fell in spot bullion trade to the lowest level since last July at $15.40 per ounce.
China's benchmark gold price meantime held unchanged in Yuan terms on Wednesday, matching July 2017 levels as the Chinese currency fell with gold to new 12-month lows versus the Dollar.
Compared to global quotes for London settlement, the premium for bullion landed in China – the world's No.1 consumer market – edged further below $4 per ounce, less than half the typical incentive for new imports.
"Prices in the Indian market are still not very attractive for the buyer," said the mining-backed World Gold Council's P.R.
Somasundaram to CNBC TV-18 today
, explaining why demand in the No.2 consumer nation hasn't responded to gold's Dollar price slump.
Thanks to the Rupee falling even harder than gold versus the Dollar, "We have seen the price increase over 2% compared with 2017.
"So it has not acted as much as a catalyst as the 2013 price decline did when we saw huge demand upsurge."