Gold prices and the precious metal complex have enjoyed a solid week, with the price of the yellow metal rallying just over USD $20 per ounce so far, as a combination of dovish Fed minutes, volatility on stock markets and the potential for the situation in Ukraine to escalate have all seen the metals bid.
Volatility in stock markets, particularly the tech heavy NASDAQ has been significant, with the market off 3% overnight, whilst the S&P500 and the Dow were down 2.09% and 1.62% respectively, a move likely to be repeated today in Australia.
Bond yields have been well bid in response, with US 10 year yields now at 2.65%, with a potential fall back below 2.5% possible. Leading Australian financial and economic blog Macrobusiness had a good piece on these moves this morning, which you can access here.
http://www.macrobusiness.com.au/2014/04/the-nasdaq-mini-bubble-is-popping/
It's also worth noting that its not just US stock markets suffering, with European bourses down overnight too, whilst the Japanese market is crumbling, down several hundred points from when the FOMC released their minutes, and down nearly 14% for the year now!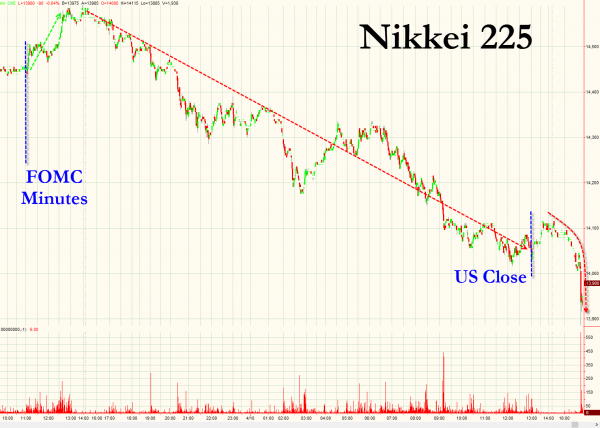 Interestingly enough though, despite the tensions in Ukraine rising again, and a clear risk off mentality, the USD hasn't rallied much at all, as the article from Macrobusiness referenced above makes clear.
This has no doubt has helped support bullion prices, with USD gold currently fetching $1319.50 per ounce, whilst silver is sitting at USD $20.12 per ounce.
A large part of the reason for the lack of USD bid the past few days was no doubt the release of the Federal Open Market Committee (FOMC) minutes, which were perceived by the market as being very dovish, and supportive of loose monetary policy for a longer timeframe.
Jon Hilsenrath of the Wall Street Journal (known as the "Fed Insider" or the "Fed Whisperer") wrote a decent article post the release of the minutes, which is as good a wrap up of the consensus view as any I've read.
Key takeaways were that, as usual, the Fed wanted to be absolutely clear to the markets that they will be keeping short term interest rates low well into the future, and they also wanted to make it clear that they were not satisfied with the very low levels of "official inflation".
There was also an indication that officials are less bullish about growth levels in the US, and that all of the slowdown in the last few months was purely weather related, and there was also a bit more of a focus on China, with the comment that:
"It was suggested that slower growth in China had likely already put some downward pressure on world commodity prices, and a couple of participants observed that a larger-than-expected slowdown in economic growth in China could have adverse implications for global economic growth."
I don't see any of this as particularly significant, just more jawboning of markets and 'managing expectations' by the Fed. Data isn't bad enough yet, and markets haven't become unhinged enough just yet for them to 'taper the taper', but it's the worst kept secret in the world that the US (and indeed global economy) can't function without extraordinary levels of fiscal and monetary stimulus.
One way or another, governments and central banks will continue to provide it.
For those of you who'd like to read Hilsenrath's original piece, it can be found here.
http://blogs.wsj.com/economics/2014/04/09/hilsenrath-analysis-fed-worried-about-misleading-on-interest-rates-at-policy-meeting/
Gold's moving averages
As it has been for the past couple of weeks, gold is still at a very interesting technical juncture, with the spot price very close to a range of key daily moving averages (DMAs).
The following table shows where the spot price, 50DMA, 100DMA, 200DMA and 300DMA currently are, as well as where they were a month ago, when gold was on a brief trip higher toward USD $1390 per ounce.
| | 10th April | 1 month ago | Change |
| --- | --- | --- | --- |
| Spot Price | 1320.50 | 1344.00 | -23.50 |
| 50DMA | 1314.32 | 1277.20 | 37.13 |
| 100DMA | 1273.94 | 1270.52 | 3.42 |
| 200DMA | 1297.84 | 1298.05 | -0.21 |
| 300DMA | 1353.79 | 1380.43 | -26.64 |
As you can see, spot prices have eased back, after the Crimea fear premium dissipated from the markets. The 50DMA has moved much higher, reflecting the strength of the precious metal sector in the first 10 or so weeks of the year.
The 100DMA and 200DMA are largely unchanged, whilst the 300DMA is still declining, as the higher prices from early 2013 slowly wind their way out of this figure.
Looking at the numbers, gold looks relatively strong, above the 2 moving averages that most chartists would look at, the 50DMA and 200DMA.
There are certainly those who are looking at the charts and feeling pretty bullish, with this article from JC Parets, Chartered Market Technician from Eagle Bay Capital predicting that we might soon see a 200 point move in gold to the upside.
http://allstarcharts.com/gold-rally-form-200-points/
Whilst I'd personally be very happy (as would most of our clients) if this were to eventuate, I'm not quite so optimistic that we'll see such a bold move anytime yet, and am still wary of a potential re-test of the USD $1,200 per ounce level, and think gold's proper bottoming process might still take a little longer.
The Pacific Peso roars to life
Apart from the mini collapse of the NASDAQ, strength in precious metals and falling bond yields, the other story of the week has been the incredible strength in the Aussie Dollar.
Currently trading at USD $0.9414, the currency is up nearly 5 cents vs. the USD in the space of just over a month, driven by three factors
•    Stronger than expected employment figures released yesterday in Australia (though the headline was much stronger than the detail),
•    An expectation that China will soon announce a series of new stimulus measures to counter a clearly weakening economy
•    Confirmation from the Fed that they are in no rush to hike interest rates
Without going into detail on all of these matters, I will briefly note that it was only the seasonally adjusted unemployment rate that fell in Australia yesterday (to 5.8%), and this was largely due to a fall in the participation rate.
The trend data, which even the ABS indicates is more reliable, continued to weaken, and interestingly enough, Roy Morgan just published research showing that employed Australians think "finding a new job" is the hardest since the 1992 recession, whilst 61% think the unemployment rate will rise in the next year.
http://www.roymorgan.com/findings/5535-employment-expectations-april-2014-201404100400
With tepid consumer confidence, weakening business confidence, and Australian Industry Groups performance of construction, manufacturing and services all in contractionary territory, its far too early to pop the champagne regarding Australia's economy, and the AUD rallying like it is will be causing nightmares for the RBA, putting pressure on them to further lower rates, which I'm sure they'd rather not do.
What I do know is that this current strength in the AUD could prove a blessing for local investors wanting to pick up more physical bullion, as it has held back prices in local terms, providing a buying opportunity for those of us who are gold bulls but are neutral to bearish on the medium term fate of the AUD.
Quarterly Directions Report!
Next week we'll be issuing our quarterly directions report, with a big focus on global GDP vs. government debt growth in the world's 11 largest nations over the past several years.
Until next week