DOLLAR GOLD PRICES came within $2.25 of $1300 per ounce in London on Wednesday morning, rallying even as the US currency rebounded on the FX market ahead of today's release of notes from the Federal Reserve's latest meeting on interest-rate policy.
That helped drive Euro gold prices back up towards early May's 8-month highs at €1110 per ounce as Italy's government bond prices meantime fell hard yet again amid fresh concerns over the incoming government's deficit spending plans.
So-called
"miniBOT" bonds
, proposed by members of Italy's new left-leaning Five-Star and right-wing League coalition, potentially breach European Union rules over government spending deficits, and also risk breaching Eurozone rules by creating a parallel currency.
"We do not interfere with domestic politics," said European Union vice-president Valdis Dombrovskis today.
Gold priced in Chinese Yuan meantime ended Wednesday in Shanghai unchanged on the day, cutting the premium for bullion delivered there rather than London below $6 per ounce for the first time in 5 weeks thanks to the US Dollar's rebound on the FX market.
Rising against all currencies except the Swiss Franc and Japanese Yen on Wednesday, the US Dollar has now risen 8% against the Indian Rupee so far in 2018, helping boost gold prices and dent demand among private households in the No.2 consumer nation.
After accounting for India's 10% bullion import duty, wholesale gold prices in India's shipping hub of Ahmedabad have fallen below comparable London quotes according to futures exchange NCDEX, nearing the steepest discount since New Year at $2 per ounce.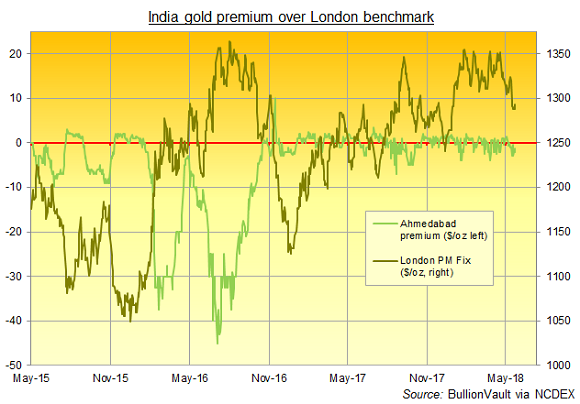 Already 22% higher for 2018 to date, gold priced in Lira rose Wednesday to fresh record highs as the Turkish currency sank once more ahead of next month's snap election,
called by President Erdogan
after a referendum gave him greater direct powers and control.
Turkish equities
today fell 1.2%
, matching the drop in global stock markets.
Crude oil meantime eased back for only the fifth day from 16 sessions so far in May, pulling Europe's Brent benchmark back towards $79 per barrel.