GOLD PRICES fell back below $1340 per ounce in London's wholesale trade Thursday despite the US Dollar slipping again on the currency market after the Federal Reserve's "no change" decision on interest rates overnight.
Janet Yellen's final meeting as Fed chair saw policymakers at the US central bank signal they're on track to take rates up to 1.75% at the March meeting, agreeing that
inflation expectations are rising
.
Japan's stockmarket today rose sharply as the Yen eased lower against the Dollar but China closed lower as the Yuan rose to new multi-year highs.
Ahead of London opening – and with the key consumer demand season of Chinese New Year now only two weeks away –
Shanghai gold prices
closed lower in Yuan terms even as global Dollar quotes rose from the same time yesterday.
That squeezed the premium for wholesale bullion already landed in the world's No.1 consumer market by $1.50 from Wednesday's
high for 2018 so far
above $10 per ounce.
"There is a battle," says Bill McQuaker of investment giant Fidelity's $55bn UK multi-asset team, "
between cyclical forces
[of] higher inflation…and structural forces which could stop it happening.
Strong growth and factors such as the US tax cuts should boost the cost of living, he believes, but "technological change and ageing populations…are deflationary."
"Will the structural changes [have] won again now? I don't know, but I think gold is an asset that can do well whatever the market conditions."
Despite the
sudden jump in stockmarket volatility
however, investors shunned the giant SPDR Gold Trust
ETF product
  (NYSEArca:GLD) again on Wednesday, with the GLD seeing its heaviest 1-day liquidation in more than 6 weeks, needing 4 tonnes less of gold bullion to back the fund's stockmarket value.
Gold's rapid price jump from 8-year lows in early 2016 saw investor interest in the GLD recover to need that same size of backing, but with gold prices $70 lower per ounce than today.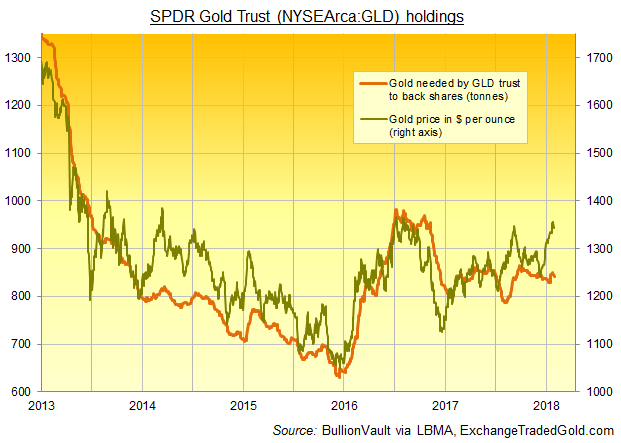 Eurozone equities ticked higher on Thursday but London fell as the Pound rose above $1.42 for the 5th time in 7 trading days, recovering its Dollar-exchange immediately prior to the
shock UK Brexit referendum
result of June 2016.
Gold priced in Euros meantime retreated to its lowest level since Christmas Week, trading at €1075 per ounce.
Manufacturi ng activity across the 19-nation Eurozone held firm overall near a record high in January,
new PMI survey data
from the Markit consultancy said today, as new growth in France and Italy offset a slowdown in Spain and Germany's recent booms.