GOLD PRICES held below $1200 per ounce lunchtime Wednesday in London as the Netherlands began a raft of 2017 Eurozone elections and new monthly data showed US inflation hitting a 5-year high ahead of today's Federal Reserve decision on interest rates.
Widely expected to take the Fed's key rate to a ceiling of 0.75%, the March meeting will still leave returns to savers far below the 2.7% annual pace of inflation reported by Wednesday's update to the
Consumer Price Index
.
Tuesday's "narrow range day" left technical support "unchanged at $1191.10," says bullion bank Scotia Mocatta's New York office, pointing to the 61.8%
Fibonacci retracement
level of the gold prices' January to February rise.
"The gold price has often found itself under pressure ahead of interest rate decisions," says today's daily commodity note from German financial services group Commerzbank, "only to gain in the end once the rate hike had been implemented."
With the Fed's March 2017 rate rise
so clearly telegraphed in recent weeks
, "The market will be more interested in learning during [Fed chair Janet Yellen's] subsequent press conference how many other rate hikes might be on the cards," Commerzbank says.
Should Yellen and her team repeat their previous
3-in-total forecast for 2017
, traders "could see one of the factors weighing on the gold price fall away…[allowing] the focus to shift back to more political issues from tomorrow."
"The majority of markets [have] decided to play wait-and-see," says a credit-market note from French investment and bullion bank Natixis, pointing to the Fed meeting.
"Investors will also be looking closely at the result of the elections in the Netherlands, the first ones in a very busy Eurozone electoral calendar."
A
new opinion poll late Tuesday
said anti-Islam, anti-Euro Geert Wilders of the Freedom Party has fallen sharply behind current Dutch prime minister Mark Rutte's Liberal Party.
Dutch government bond yields fell further back as their prices rose, cutting 10-year yields from last week's 13-month high at 0.74% and trimming the gap over German Bunds.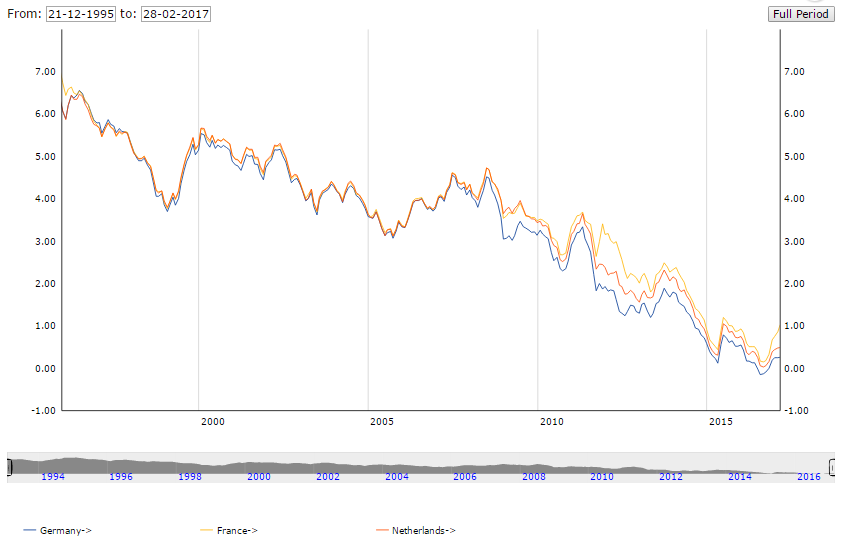 French bond yields also retreated, dropping to 1.04% with 4 weeks to go before the first round of France's general election.
"[A] Le Pen win remains unlikely, and Frexit even more so," says a special Frexit report from French investment bank and bullion market-maker Societe General.
But there is "a tail risk that France elects a pro-Frexit president" during the April and then May rounds of the national elections, it adds, noting that Le Pen has promised to hold a referendum within 6 months.
"Even in the unlikely event of a 'Yes' vote to a Frexit referendum, the economic crisis that would likely result could well see France scrambling to reverse the decision."
Gold prices for Euro investors
 held unchanged for the week so far on Wednesday at €1128 per ounce, roughly in the middle of the last 12 months' range.
British prime minister Theresa May today told MPs that
Scotland "will leave" the European Union
whether or not a second independence referendum is held and won by the Scottish Nationalist Party before Article 50's two-year countdown to Brexit ends in 2019.
Six months after the UK's Brexit referendum result,
unemployment fell in January
to the lowest level since 1975 at 4.7% according to official data Wednesday.
May's finance minister Philip Hammond meantime
backed down on a tax-raising plan
for National Insurance contributions announced only last week in his Budget which broke a 2015 manifesto pledge.
With the Bank of England expected to hold its QE money creation at £435 billion and its key interest rate at 0.25% tomorrow,
10-year UK government Gilt yields
held at 1.22% on Wednesday.
UK inflation was last pegged at
1.7% per year
by the Office for National Statistics.