GOLD PRICES traded higher from the lowest close in more than two weeks on Monday morning in London, while the Dollar weakened at the start of a potentially pivotal week of long-awaited policy meetings at the US Federal Reserve and the Bank of Japan, writes Steffen Grosshauser at BullionVault.
Holdings of the giant SPDR Gold Trust (NYSEArca:GLD) were up 1.1% to 942.61 tonnes on Friday's price drop, but global gold ETF holdings remain down from August's 3-year high, heading for their biggest monthly decline this year.
Hedge funds and other large speculative players cut their net betting on higher gold prices by more than 10% last week – the most in three months – according to Friday's latest data from US regulator the Commodity Futures Trading Commission's report on Comex positioning.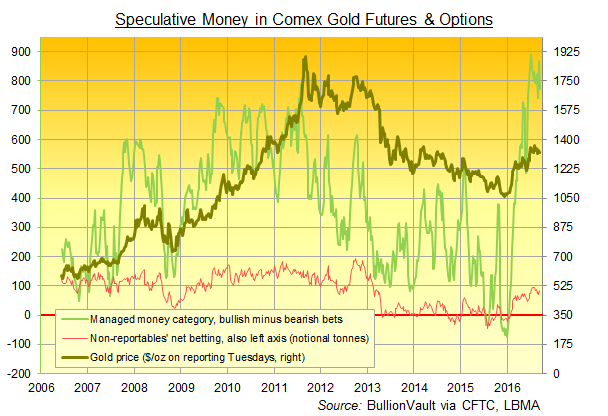 With Chinese investors and traders returning to the market after their Mid-Autumn Festival break, gold prices rose from $1310 to $1318 per ounce Monday before giving back half that move.
The US Dollar dropped around 0.4% against its major peers on the FX market following the weekend's bombings in New York and New Jersey.
Betting on interest-rate futures
today put the probability of a US rate hike at the Federal Open Market Committee (FOMC) meeting this Tuesday and Wednesday as low as 1-in-8 but expectations for an increase in December were above 50%.
"A rise in rate would be a major market shock," says a note from analysts at National Australia Bank.
"Expect gold prices to be extremely volatile towards the [Fed] meeting," says Barnabas Gan, analyst at Singapore-listed bank OCBC.
The FOMC meeting will coincide with the Bank of Japan's monetary policy meeting this Wednesday, where
many analysts expect
the central bank to ease their policy further and push interest rates even deeper below zero and grow its QE asset-buying program.
European and Asian stocks also rose Monday ahead of those central bank meetings, while
Brent crude oil was spurred more than 0.5%
higher amid talks about an Opec deal on limiting output and reports of fighting around Lybian oil ports.
Silver followed and extended the move in gold prices, surging nearly 2% to up to $19.18 per ounce.
Resistance remains at $19.30, according to Scotiabank's daily market commentary on Friday.
The precious metals' rally this year was "completely justified", RBC Capital Markets commodity strategist Christopher Louney told CNBC, calling it a "
kind of perfect storm for gold
" but warning investors not to expect a return to the $1375 per ounce highs seen this summer.
"We had Brexit, we had uncertainty, we had volatility, we had very low yields, we had so many things going on in the markets that were in gold's favour."