GOLD PRICES held flat for the week so far in Dollar terms on Wedneday, trading in London's wholesale bullion market at $1290 per ounce as global stock markets rose despite the ongoing US government shutdown and fresh political turmoil in the UK over Brexit.
Major economy bond prices slipped, edging long-term interest rates higher from their recent plunge from multi-year highs back to start-2018 levels.
Nearly two-thirds of speculative betting on US interest-rate futures now sees the Fed
holding unchanged
until at least February 2020 according to the CME derivatives exchange.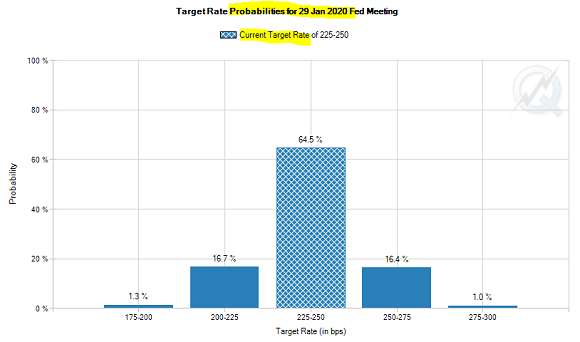 "We think the narrow window in which the ECB could have lifted its key interest rate
has closed
," says investment and bullion bank HSBC's economist Simon Wells.
"The case for a rate rise on inflation grounds has been weak for a while and with growth slowing, jittery markets and low inflation, we see ECB rates on hold until at least the end of 2020."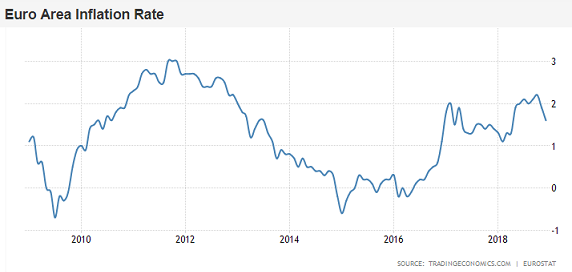 China meanwhile "remains addicted to ever-higher levels of debt and construction," says
an editorial column
in the
Financial Times
, "despite more than a decade of efforts to rebalance the economy and wean itself off the stimulus introduced in the wake of the 2008 financial crisis.
"China's total debt exceeded 300% of gross domestic product by the end of last year. Much of that investment has gone to waste…[with] more than 1-in-5 Chinese homes in urban areas, or about 65m apartments [sitting] empty."
New bank lending slowed in China in December, new data said yesterday, but it was greater than analysts forecast by more than one-third.
With barely 3 weeks until the key gold-buying festival of Chinese New Year, prices in Shanghai today held a $9 per ounce premium to London quotes, extending the recovery in incentives for new bullion imports into the No.1 consumer nation.
Stock markets fell Wednesday in both Japan and the UK, where Prime Minister Theresa May today faced a vote of confidence in the House of Commons after Parliament delivered a historic defeat for her Government, voting against her proposed Brexit deal with the European Union by a record margin of 432 versus 202.
Expected to survive today's vote with the backing of those Conservative MPs who voted down her deal last night,
May meantime faced calls
 in what one observer called the "soap opera" to delay the March 29 deadline for Brexit, or to cancel Brexit entirely, or to renegotiate the entire deal with the other 27 member states of the EU in the next 72 days.
"We
can't shift on the issue
of there being no hard border between Ireland and Northern Ireland," said Irish Taoiseach Leo Varadkar today, pointing to the Good Friday Agreement of 1998 which helped end 30 years of violence between Catholic and Protestant paramilitaries in the UK province of Ulster.
"As someone who lived through the Troubles,
we never had a hard border
," countered Northern Irish politician Arlene Foster of the DUP, saying that the "20,000 soldiers in Northern Ireland were there to stop terrorists as opposed to the flow of powdered milk."
The
UK gold price in Pounds per ounce
spiked to £1018 on news of May's defeat last night, but immediately fell 1.7% as Sterling than rallied on the FX market, holding above £1000.
Germany's Government has meantime
approved the surveillance
of right-wing anti-immigration party the AfD by the country's domestic intelligence agency, a move denounced as "a political witch-hunt" by leaders of the main opposition party against Angela Merkel's coalition, which
won 12.6% of the vote
 in Germany's 2017 elections.
Over in France, "The
answer to the gilets jaunes
protests is to apply the same rules for all in matters of work, retirement and social benefits," writes philosopher Chantal Delsol in today's
Le Figaro
.
"A movement of this magnitude…supported by a majority of the population, owes nothing to chance or whim. It is a social drama that reveals long-standing fractures."
Gold priced in the single Euro today held near 2-week highs at €1132 per ounce, just €6 below the New Year's jump to 19-month highs.