GOLD PRICES rose to 2-week highs for Dollar and Euro investors on Tuesday and reached new November highs in terms of the British Pound as global stock markets fell sharply, extending yesterday's 1.7% loss on Wall Street.
Reaching near $1229 per ounce, gold then eased back $5 as the Dollar rallied, keeping the Euro gold price above €1074.
"Trade tensions remain heightened between the US and China, global equities are under pressure, while Brexit negotiations continue to create uncertainty across markets," says a trading note from Swiss refiners and finance group MKS Pamp.
"[That's all] keeping gold's safe-haven status intact."
Spain said Monday it cannot ratify the EU's exit agreement with the UK because
Article 184 suggests the deal
could prevent Madrid from demanding future negotiations with London over the status of Gibraltar.
Meantime in London, the DUP of Northern Ireland politicians – formerly in a coalition with Theresa May's Conservative Party to give her a working majority in Parliament – abstained from voting on the Government's finance bill over night.
That shows "
the DUP is furious
about the compromises that Number 10 has made [over the Irish border issue] to get their draft deal with the EU," says the BBC.
Touching £957 this morning, the UK gold price in Pounds per ounce has now risen 6.5% since early October, when it briefly slipped below £900 per ounce – a new low following the mid-2016 Brexit referendum.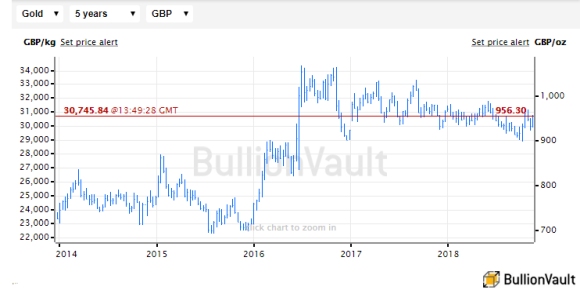 Looking at Dollar gold prices, "Any meaningful rally is likely a story for late 2019," reckons Canadian brokerage T.D.Securities' Bart Melek, head of global strategy.
"The US Dollar's strength relative to [major economy] and [emerging-market] currencies is likely to remain a significant headwind that will suppress positioning for gold bugs.
"We expect prices to be well contained, before trending into the $1300s in the latter part of 2019."
The Dollar rallied from 2-week lows against the Euro on Tuesday morning in London, recovering to $1.14 per Euro after Italy's left-right coalition government said
it may veto
the European Union's budget if Brussels doesn't stop trying to force lower spending and higher tax on Rome's domestic 2019 plans.
Contrary to most major European government bonds, Italian debt prices fell Tuesday, pushing the cost of borrowing up to the highest level since 2014 and blowing the 10-year BTP bond spread over German Bunds
out to 330 basis points
, back near the 5-year record hit this spring.