GOLD PRICES held little changed in a tight range in terms of all major currencies on Tuesday as Asian equities rose but European stock markets held flat ahead of the UK Parliament's "meaningful vote" on Prime Minister Theresa May's Brexit deal.
With the Withdrawal Agreement proposed by May and the European Union set for a heavy defeat in the House of Commons this evening, betting at UK sportsbook Betfair now says an extension of Article 50 beyond the 29 March deadline for Britain's exit from the EU is overwhelmingly likely, pricing it at 1/5.
The odds of a second referendum are little better than evens at 13/10, while Labour and the current ruling Conservative Party are
meantime both 10/11
to win the next UK General Election – something Labour leader and long-time anti-EU campaigner Jeremy Corbyn has said he will call for again in the event May loses tonight.
Gold priced in British Pounds today
held above £1000 per ounce after yesterday dipping through that level – a 15-month high when reached in December – for the first time since Boxing Day.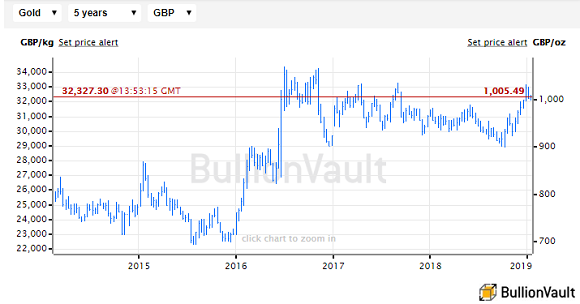 "British investors [should] bear in mind that
if and when Brexit is behind us
, we are likely to see a sharp rally in the Pound against the Dollar, and therefore also against the gold price," says ex-HSBC fund manager Charlie Morris.
"That, of course, could take a while, and in the meantime I expect gold's bull market to continue. But it's just a headwind to be aware of."
Looking ahead to a Corbyn government, "To avoid economic blackmail by the markets, any socialist government would need to impose limits on the movement of money by investors," says a column in left-leaning UK political magazine
The New Statesman
. 
Now the No.5 gold consumer nation, Turkey imported some $900m of gold from Venezuela over the first nine months of 2018,
official data suggest
.
"We went off and we ordered American fast food, paid for by me.
Lots of hamburgers, lots of pizza
," said US President Trump last night after hosting  2019 winning college football team Clemson at the White House, where many staff are currently furloughed by the ongoing government shutdown.
The longest shutdown in US government history, and still blocked by the impasse between Trump and Democrat politicians over funding his Mexico wall election promise, it's now costing the world's largest economy
0.1 percentage points of economic growth per week
, an un-named White House official told media overnight.