GOLD PRICES dropped $6 to erase an overnight rise at the start of US trading on Monday, moving back to last week's finish of $1290 per ounce as world stock markets fell even as major government bond yields slipped once more.
"The geopolitical risks have started to induce
some safe-haven buying
," reckon analysts at Australasian bank ANZ, "[because] investors are becoming increasingly worried about the Brexit negotiations. At the same time, there appears no end in sight for the US government shutdown."
"The on-going US government shutdown, Brexit jitters and trade concerns are
all supportive for the yellow metal
," agrees a trading note from Swiss refiners and finance group MKS Pamp, "and we are likely to see any downside moves bought into to restrict further declines."
But that by itself won't be enough to push gold prices higher, MKS goes on, saying that "the metal currently sits firmly within the middle of the $1280-1300 range and it is difficult to see a catalyst for a break-out over the near term"
"There is a key resistance between $1290 and $1310," says spead-betting bookmaker CMC.
Short-selling of Comex gold futures and options by hedge funds and other money managers reached record levels last October, but positioning data from US regulators has now not been available since end-December thanks to the partial shutdown of US government agencies in the spat between President Trump and Democrat lawmakers over his Mexico wall budget demand.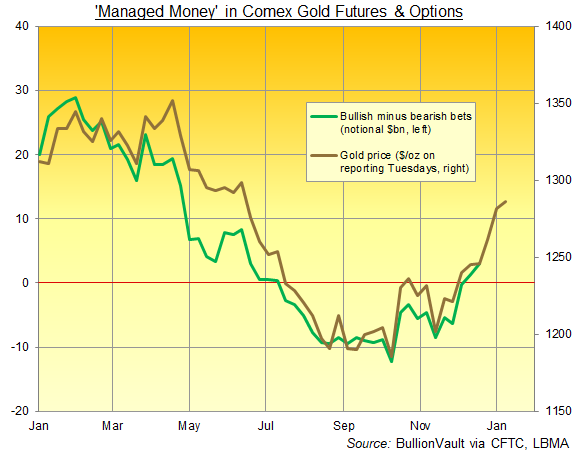 Moved closely in line with the net balance of speculative betting over the last 12 months, the gold price has risen in each of the 4 weeks since the US government shutdown suspended publication of positioning data by regulatory agency the CFTC.
Following smartphone manufacturer Apple's warning over falling sales in China, new data on Monday showed Chinese exports of goods falling in December but imports falling nearly twice as hard. Together that boosted the No.2 economy's overall trade surplus to
a new series record
.
Eurozone data meantime showed industrial output across the 19-nation single currency area shrinking 3.3% per year in November.
After this month's stark
turnaround in US Federal Reserve comments
on the 2019 outlook for interest rates, Eurozone central-bank chief Draghi gives a speech Tuesday, and Bank of Japan chief Kuroda speaks Thursday.
Gold prices for Eurozone investors today peaked at 1-week highs of €1130 per ounce – some 3.7% higher from this point in January 2018 – while
the UK gold price in Pounds per ounce
rallied £5 after coming within £1 of slipping below £1000 for the first time since Christmas.
Prime Minister Theresa May today urged UK lawmaker to vote for her Brexit deal in tomorrow's key Parliamentary vote, saying that the world's No.5 economy 
risks "catastrophic harm"
if it hits either a "no deal" exit or fails to leave the European Union as scheduled on 29 March.
Turkey's President Erdogan meantime called on US President Trump to
back down over his threat
to "
devastate Turkey
" economically if it strikes against Kurdish forces in northern Syria, accused of terrorism by Ankara but Washington's former allies against the ISIS death cult.