GOLD PRICES held tight at this week's opening level on Thursday in London, trading at $1317 per ounce as the rebound in Western stock markets stalled and the leadership race for both the UK's ruling and opposition political parties grew yet more fractious.
The US Dollar and Japanese Yen eased further back however from last week's 'safe haven' surge following the
UK's shock Brexit vote
.
Major government bond prices also eased, edging
10-year US Treasury yields
up to 1.50% per annum from this week's new 4-year lows.
The British Pound meantime continued to edge higher on the FX market, but held 10% down from this time last week.
Gold prices for UK investors held above £980 – a level first seen 5 years ago this week, barely two months before gold's all-time Sterling price peak some 21% higher.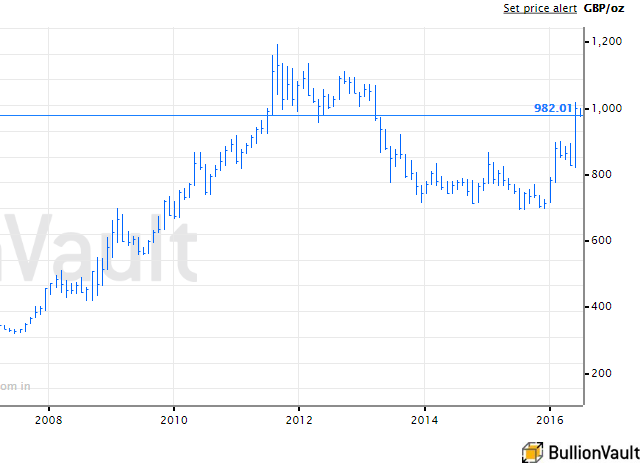 "The worst is yet to come," reckons currency strategist Marc Chandler at US bank Brown Brothers Harriman, saying "it may take a few weeks before the shock feeds into economic reports."
Five MPs today threw their hat into the ring to replace current Conservative Party leader and UK prime minister David Cameron.
Political betting moved to make Home Secretary Theresa May the
odds-on favorite
for both the Tory and government leadership.
Britain's opposition Labour Party meantime saw former minister Angela Eagle declare
she will stand against current leader
Jeremy Corbyn, who lost a vote of no confidence amongst parliamentary colleagues by a landslide on Tuesday.
British MPs attending the House of Commons today
discussed Twitter comments
made last week by US actress and celebrity Lindsay Lohan.
"A number of commentators have sought to reassure investors that the events of last week
were not 'a Lehman moment'
," writes Geoff Candy at investment professionals' site Portfolio Adviser today, "[because] Brexit is not a financial event" but a political move.
"But a vote by the UK to leave the European Union was a powerful blow against globalisation," Candy notes, "and investors should be prepared for its impact."
Brexit has "unleashed" a crisis of asset-price falls and deflation, legendary speculator George Soros today told the European Parliament in Brussels.
"This has been
unfolding in slow motion
, but Brexit will accelerate it. It is likely to reinforce the deflationary trends that were already prevalent."
Commodity prices, however, are set to end June with the largest quarterly rise since 2010,
gaining 13% on average
according to the Bloomberg Commodity Index but still halving their peak of 2011.