GOLD PRICES rose against all major currencies on Monday morning before easing back in London, rallying from a 4-month Dollar low as the US currency slipped but the Chinese Yuan – now part of the International Monetary Fund's SDR basket – fell hard on China's return from the Golden Week holidays, writes Steffen Grosshauser at BullionVault.
The Yuan was fixed by Beijing's central bank at its lowest level versus the Dollar
since September 2010
.
The US Dollar index ticked 0.2% lower following the acrimonious US presidential election debate overnight between Democrat and former First Lady Hillary Clinton and the Republicans' property mogul candidate Donald Trump.
Western stock markets rose and major government bond prices slipped.
Gold prices rose $5 per ounce from last Friday's 3pm benchmark in London to touch $1264, recovering from its worst weekly loss since 2014.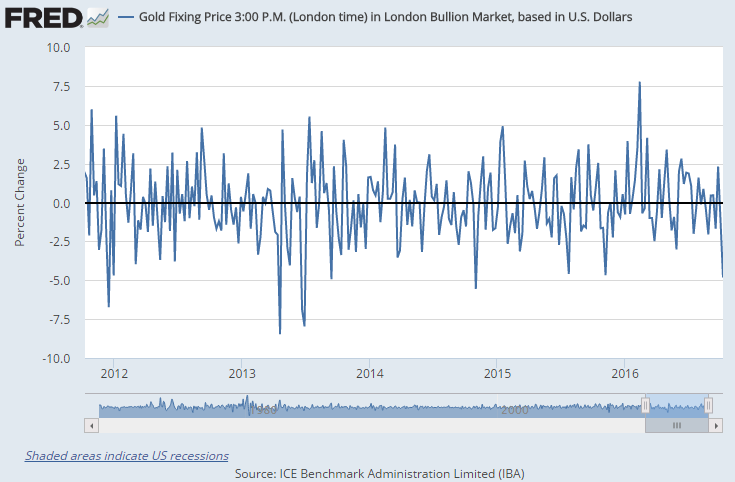 Japan and Hong Kong stayed closed due to public holidays, but Chinese traders returned to the market to find gold prices 4.5% lower from before their week-long National Day break.
"We expect gold to remain buoyant, looking for support around $1250 following Friday's encouraging move…on the less than impressive US jobs data," commented Swiss refining and finance group MKS's trading desk on Monday morning.
"Gold prices are quite appealing after the recent correction," said Richard Xu, a fund manager at China's biggest gold exchange-traded fund HuaAn Gold.
"In China, what we see today is that there is some demand to buy gold following its dip."
"Early buying was evident from both speculators and physical traders," confirmed Alex Thorndike, senior precious metals dealer at MKS Pamp, "with investors expecting the return of the Chinese – after a week-long break – to see some decent buying."
Other precious metals rose faster, silver gaining around 1.5% to $17.75 per ounce while platinum rose 0.5% after dropping to a 6-month low of $946 last Friday.
"If investors are looking for the next US president to create stability in the markets, it's
not going to happen
," said former US Representative Ron Paul.
However, "talks related to the presidential election don't count," thinks Mark To, head of research at Hong Kong's Financial Group Wing Fung.
"Once elected most candidates follow the same practices. They don't opt for extreme measures like they promise in their campaigns."
Meanwhile, global holdings of bullion-backed exchange traded funds grew to the highest since 2013 after last week's drop in gold prices.
The world's largest
gold-backed ETF
, the SPDR Gold Trust (NYSEArca:GLD), rose 1.2% to 958.90 tonnes last Friday.