GOLD PRICES spiked and then retreated Friday afternoon in London but matched their highest weekly close since before Donald Trump was elected US president last November as the odds of a Federal Reserve rate-hike in September were slashed to zero after July's consumer-price inflation data came in below analyst forecasts.
With Trump's North Korea nuclear stand-off continuing, gold bullion prices this week recorded their sharpest gain since early February after the President said his prior threat of "fire and fury like the world has never seen" was
"maybe" not strong enough
to deter Pyongyang from attacking the US island and military base of Guam.
"Military solutions are now fully in place, locked and loaded, should North Korea act unwisely," Trump tweeted Friday.
Fixing at $1284.40 per ounce at the 3pm LBMA benchmarking auction, gold prices this week rose 2.1% from last Friday afternoon.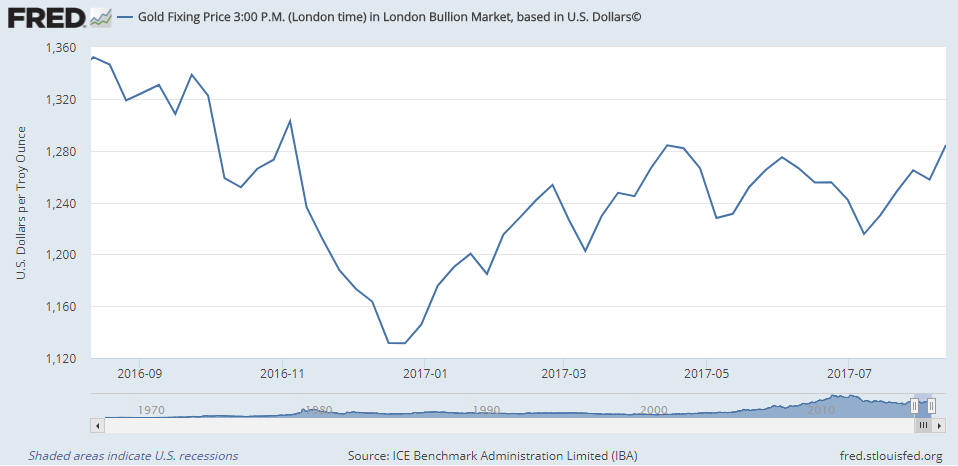 That still knocked the gold price for Eurozone investors back below €1090 per ounce, but it held 2.7% higher from last Friday at the global 3pm LBMA benchmarking in London – the sharpest weekly gain since October last year.
"Gold remains in demand as a safe haven and is still on the up," said Friday morning's commodities note from German bank Commerzbank.
But giant gold-backed trust fund the GLD failed to grow again Thursday, holding at its smallest size in nearly 18 months.
In contrast, trading
volumes in Comex gold options
jumped to 1-month highs as the total number of Comex gold futures underlying them – contracts which rarely see any physical bullion demanded in preference to cash – swelled by 3%.
"Gold opened [Friday] on the bid in Asia and traded quickly to the [session's] high of $1288.40," says Swiss refining and finance group MKS Pamp's trading team.
With Dollar prices rising however, the premium for bullion already in Shanghai – central hub for the world's largest gold consumer market – "pulled back to $3 over loco London," MKS adds, "which sparked a short-sell off in China.
"However, the market looks well supported around $1285."
Eastern stock markets fell for a second day Friday, erasing the week's prior gains on the MSCI Asia Pacific index.
European stock markets then cut earlier losses and Wall Street opened higher after July's US inflation data said inflation rose to 1.7% per year, just below analyst forecasts.
Betting on the US Fed's September interest-rate decision however shifted to a near-96% certainty of "no change".
The odds of a hike from the current ceiling of 1.25% evaporated entirely according to interest-rate trading tracked by the CME's FedWatch tool

"Our longer term bias is bullish," said Commerzbank's latest weekly technical analysis of gold prices, "but this will only be confirmed on a break and weekly close above $1295.79" – the
gold spot price
peak of early June.
"[Gold] is now closing in on a
multi-year trend line resistance
at $1291/1295," says the technical analysis team at French investment bank Societe Generale, "[but] short term the upside is likely to remain capped.
"$1260/1256 should be near-term support."