GOLD PRICES slipped to 7-session lows against a rising Dollar in London on Friday, dipping below $1235 per ounce as the US reported better-than-expected retail sales growth but China's economic data missed analyst forecasts.
While the US said retail sales outside automobiles, gas and food rose strongly in November, China – the world's second-largest economy and the No.1 gold consumer nation – reported its slowest annual pace of retail sales growth since 2003 and the slowest rise in industrial output since New Year 2016.
Copper and
crude oil prices
fell on China's news, holding a 15% and 8% drop for 2018 to date respectively.
"The
need for cutting taxes
, fees and interest rates has further increased," reckons one Chinese bank's chief economist.
"Insufficient demand has become the main problem."
"Until the Opec [oil cartel's output] cuts start kicking in, the [energy] market is oversupplied in the short term," reckons Japanese group Mitsubishi.
"If China is slowing down, that's definitely a concern."
"Another slow day for Asia with
very little to report
," says the latest gold trading note from Swiss refiners and finance group MKS Pamp, with only "tiny flows" in the market.
Shanghai gold prices held firm in Yuan terms overnight, keeping the premium over London quotes – a measure of local demand and supply conditions – above its historic average of $9 per ounce.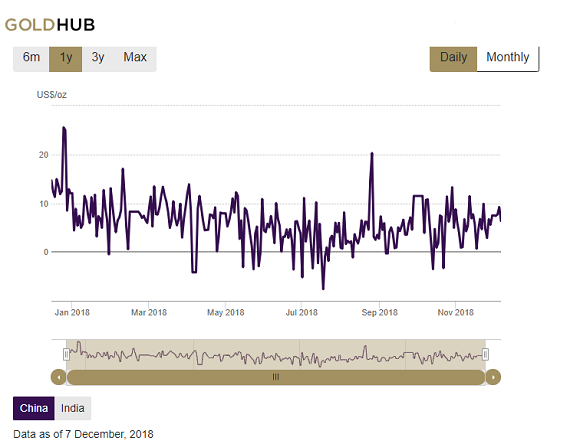 Silver prices dropped Friday morning below $14.60, some 1.5% beneath yesterday's 6-week high.
Platinum prices
also slipped below last week's finish, trading at $792 per ounce – some 4.5% above August's 15-year low.
Korean auto-giant Hyundai said this week it's investing $6.7bn to
grow production of fuel-cell vehicles
– needing platinum as a catalyst for making energy by mixing hydrogen with oxygen – to half-a-million per year by 2030.
Beijing said today it will
suspend an additional 25% tariff
on US-made vehicles for 3 months starting New Year's Day, part of the trade-war "truce" agreed by Donald Trump and his Chinese counterpart Xi Jinping at the recent G20 summit of world leaders.
"[But] the ongoing trade war
remains a headwind
, truce or no truce," says US brokerage Brown Brothers Harriman.
Eurozone manufacturing growth meantime showed a slowdown on the Markit data agency's first-flash December surveys, while consumer-price inflation in Italy missed analyst forecasts by holding at 1.6% per year for November.
"In some parts of [recent years],
QE has been the only driver
of this recovery," said European Central Bank president Mario Draghi on Thursday after holding interest rates and the total stock of QE asset purchases unchanged for the 19-nation Euro currency union.
Asked if the ECB is ready to use asset purchases in 2019, "Well, we didn't have to discuss this because we decided that our baseline is still valid," Draghi said.
"Wages have been steadily increasing since 2016…This [is] quite broad based, not limited to one country [and] across sectors."
Against a Eurozone average of 2.1% however, "negotiated wages in some sectors in Germany are [rising] between 4% and 6%…Profits are being squeezed [and so pricing] pass-through will happen."
Gold priced in the Euro traded just €1 below last Friday's finish, holding at €1095.
The UK gold price in Pounds per ounce meantime held a 0.3% weekly gain at £984 after British Prime Minister Theresa
May failed to win further clarification
 or reassurances for lawmakers at home over the Irish border "backstop" part of her EU-Brexit deal from other European Union leaders.