GOLD PRICES slipped against a rallying US Dollar on Monday in London as traders looked ahead to this week's US payrolls jobs data plus President Trump's meeting with Chinese counterpart Xi Jinping, writes Steffen Grosshauser at BullionVault.
Gold traded in a narrow $5 price range around $1246, recovering from Friday's 10-session lows as world stock markets held flat overall but European bond prices rose, edging interest rates down.
"No sign of geopolitical stress in upbeat markets," says a headline on FT.com.
"[A rising] interest-rate hike cycle has set in," reckons research chief Mark To at Wing Fung Financial Group in Hong Kong, "and that
might keep gold in a wide range
of $1200-$1250."
Trump is set to meet Xi on Thursday and Friday at the celebrity real-estate mogul's
golfing and hotel resort Mar a Largo
in Florida, with North Korea's nuclear arms program set to feature high on the agenda.
"Trade is the incentive, it is all about trade," Trump told the
Financial Times
this weekend
when asked how
the Unites States will convince China to pressure its Communist neighbor, with a failure to agree meaning unilateral US action to "solve" dictator Kim Jong-Un.
Silver prices meantime retreated 0.7% Monday morning from Friday's close to trade at $18.15 per ounce.
New data show the Managed Money category of Comex derivatives traders growing their bullish bets on silver futures and options, net of bearish bets, to a 3-week high in the weekending last Tuesday, taking it almost 250% above the historical average.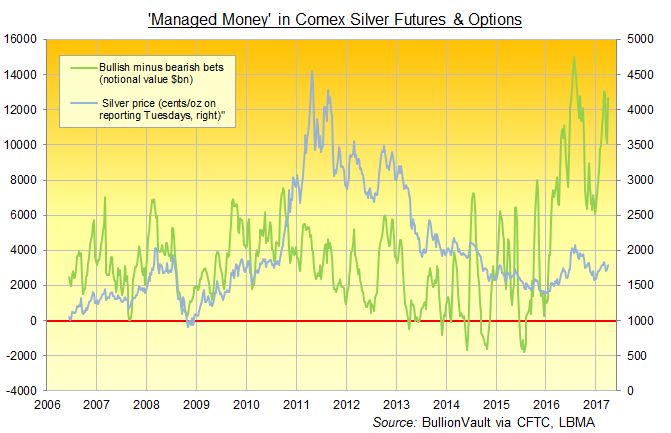 Speculation in gold futures and options rebounded twice as fast as silver's last week, with the Managed Money net long growing 50% but still holding at just four-fifths of its historic average, according to data released by US regulator the Commodity Futures Trading Commission.
The giant SPDR Gold Trust (NYSEArca:GLD) meantime shrank again on Friday, reversing last week's previous 3-tonne inflow to hold the amount of bullion needed to back its shares at 832 tonnes.
The largest silver ETF – the iShares Silver Trust (NYSEArca:SLV) – also shrank, with shareholders liquidating 3% of the trust across the first quarter as a whole despite the metal's 11% gain, second only to emerging-economy stockmarkets amongst major tradable assets.
"We think that both the gold and silver complexes will make fresh highs this month ahead of the French elections, but likely fade in their immediate aftermath," reckons analyst Edward Meir at brokerage INTL FCStone.
British Prime Minister Theresa May's Brexit negotiations with the 27 remaining European Union members grew more heated at the weekend after
a senior colleague likened Spain's interest
in Gibraltar to the Argentinian invasion of the Falklands in 1982, and suggested a similar armed conflict may follow.
Gold prices for UK investors edged higher but held below the £1000 mark as the British Pound fell sharply on the FX market following weaker-than-expected UK manfacturing activity data on the Markit PMI survey.