GOLD PRICES briefly rallied above $1300 per ounce on Monday morning in London before falling back ahead of tomorrow's historic US-North Korea meeting and three key central bank policy meetings this week, writes Steffen Grosshauser at BullionVault.
The yellow metal then fell back to $1296 while the greenback strengthened versus its major counterparts on the FX market as Trump arrived in Singapore ahead of his planned one-on-one meeting with North Korea's hereditary dictator Kim Jong un.
Asian and European stock markets edged higher and Italian banking shares surged 4% after new finance minister Giovanni Tria vowed that there was
"no discussion" about leaving
the Eurozone currency union launching non-Euro
"miniBOT" money
 as proposed by some members of the new right-and-leftwing ruling coalition.
Silver prices
meantime rose to new 7-week highs, touching $16.93 per ounce.
Latest data from US regulators the CFTC say that while the Managed Money category cut its net long position on gold derivatives by 5% overall last week, the balance of their bullish minus bearish betting on silver leapt four-fold, but only to stand at 16% of the last 10 years' average.
Over 23 weeks so far in 2018, hedge funds and other money managers have bet net positive on silver prices in only nine.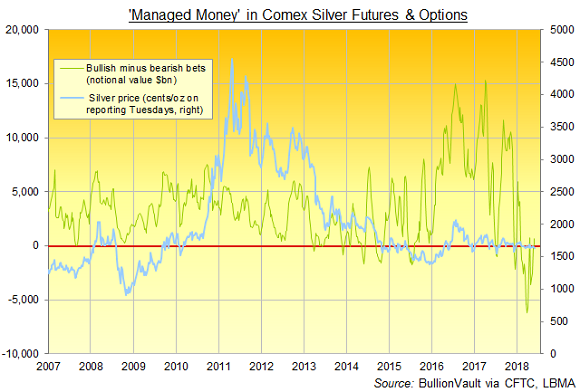 "Everybody's on the side-lines, waiting for the outcome of the Fed meeting," said Gianclaudio Torlizzi, partner at consultancy T-Commodity in Milan, looking ahead to the Federal Reserve's 2-day Federal Open Market Committee meeting starting on Tuesday – widely expected to see the FOMC raise interest rates for the second time this year.
Further policy decisions then follow from the European Central Bank on Thursday and the Bank of Japan on Friday.
"I'm pretty certain that gold and silver will survive yet another rate increase… and prosper, quite frankly," counters Canadian billionaire and precious metal investor Eric Sprott.
Already arrived in south-east after walking out of the G7 summit, Trump on Sunday said to Singapore's Prime Minister Lee Hsien Loong that he expects the first ever meeting of a US president with the leader of North Korea
"to work out very nicely"
.
"Expect the precious complex to see volatile trade this week," warns the refining and finance group MKS in their precious metals note today, pointing to Trump-Kim as well as the Fed "and the ECB meeting with focus on comments regarding the future of QE" in the 19-nation currency union.
Gold prices for EU investors fell slightly below the € 1100 level Monday morning.
The size of the world's largest gold-backed ETF, the SPDR Gold Trust (NYSEArca:GLD), fell by nearly 0.5% to 828 tonnes on Friday.
That marked the sixth weekly decrease in a row, with the number of GLD shares now in issue falling to the lowest since 22 February.