GOLD PRICES inched lower on Monday morning in London ahead of a busy week for central bank policy meetings, plus Donald Trump's pick for the next head of the US Federal Reserve, writes Steffen Grosshauser at BullionVault.
After the European Central Bank
slowed its QE stimulus growth
last week, the Bank of Japan will announce its latest policy on Tuesday, followed by the Fed on Wednesday and the Bank of England on Thursday.
"Gold continues to face strong headwinds from US economic growth, an equity rally boosted by tax reform and a potentially more hawkish Fed," says the latest weekly note from Japanese conglomerate Mitsubishi's Jonathan Butler.
"President Trump is said to favour existing governor Jerome Powell, widely seen as a relatively dovish continuity candidate. [But] the surprise outcome would be the announcement of Prof. John Taylor…[and] likely see a rally in Treasury yields and the Dollar, and damage gold."
The largest gold-backed ETF trust fund vehicle, the SPDR Gold Trust (NYSEArca:GLD), saw outflows of 2.4-tonnes last Friday after being unchanged at 853.1 tonnes for eight days.
Hedge funds and other large speculators cut both their bullish and bearish betting on Comex gold futures and options last week, according to the latest US Commodity Futures Trading Commission data. 
Altogether, the CFTC data show 'Managed Money' cutting its net long position to the lowest level since July, down for the 6th week straight.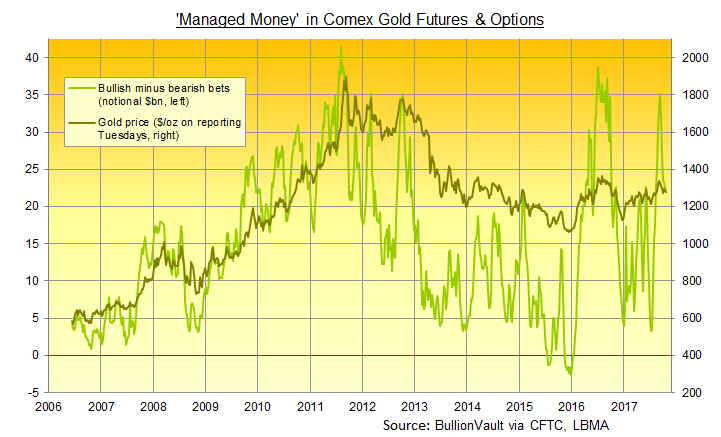 Gold prices fell slightly on Monday from last week's close at $1273 per ounce to $1271, managing to stay above the 3-week low at $1264 hit earlier on Friday. 
Gold measured in Euros slipped further, down from €1096 to €1092 per ounce after hundreds of thousands of supporters of a unified Spain took to the streets of Barcelona on Sunday, protesting against the Catalan parliament's declaration of independence.
Spain's Ibex 35 index rose 2%, recovering most of
the spike it lost on Friday
's news from Barcelona, while European stock markets traded sideways overall.
"Powell certainly could cool the rate and Dollar rally heading into November," says brokerage INTL FCStone's analyst Edward Meir. 
"A dovish appointment [Janet Yellen or Jerome Powell] would be more bullish for gold, while a hawkish pick [Kevin Warsh or John Taylor] would be bearish."
The US Dollar today softened against its major counterparts, but still hovered near 3-months highs as news broke that Donald Trump's election campaign managers from 2016 have handed themselves in to police and
been arrested on as-yet unknown charges
regarding Russian interference in his victory as president.
Trump's decision on his pick for Fed chair is expected before he leaves for an 11-day tour of Asia on Friday, which will also bring key monthly US jobs data.