GOLD PRICES retreated from an overnight rally in London trade Tuesday, dropping back below $1320 and hitting 2-week lows vs the Yen as the Japanese currency soared on speculation that the Bank of Japan won't unleash extra stimulus in Friday's policy announcement.
Betting on US interest-rate futures again put the odds of a rise to 0.75% at Wednesday's Federal Reserve meeting
at less than 1-in-20
.
China's main stock index rose 1.2% but held below mid-July's new 2016 highs, while Japan's major equities lost 1.4% as the Japanese currency rose at its fastest pace since the UK's late-June Brexit referendum result, pushing the gold price over 3% below last week's 4-month highs.
London's largest shares edged higher, but property shares fell again after UK real estate developer Capital & Counties Properties Plc (LON:CAPC) – already trading 40% below last summer's all-time high – fell 4% as it wrote off £200 million of a £1.6bn land holding in West London,
blaming the Brexit result
for lower expected sales and property prices.
"A fairly soft start to the week for gold," says the Australian trading desk of Swiss refiner and finance group MKS, "the metal coming under early selling pressure from both spec[ulative] and Asian physical [traders]."
"The first half of 2016 had seen a dramatic change in the rhythm and flows of the gold industry, even long before Brexit," says the latest quarterly update on demand and supply from specialist analysts Thomson Reuters GFMS.
Contrasting with investment demand for gold-backed ETF vehicles – which set a new half-yearly record in the first 6 months of 2016 – overall phyical demand "was down by more than a fifth year-on-year to a seven-year low, with Asian offtake being exceptionally weak," GFMS says.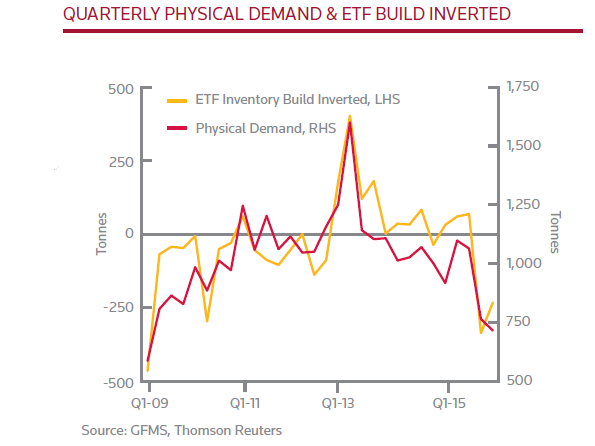 "It's crazy how small the amounts moving are," the Platts news and data agency quotes one senior logistics manager at the the inaugural Bullion Federation conference in Agra.
"You find me someone [who's making money in India]," added a senior banker – "it's impossible."
Indian prices have, so far in 2016, averaged a discount to London of $22 per ounce according to Platts.
Gold imports to China through Hong Kong last month fell 40% or more according to new data released Tuesday morning, dropping to 69 tonnes.
That still shows a 69% annual increase for net imports year-to-date however.
"As we can see, domestic demand isn't that strong. Jewelry holdings per capita are at the global average, so there's not much room to grow."
Chinese Yuan gold prices this month hit 3-year highs, before retreating as the Dollar price has dropped 4% from its peak at $1375 per ounce.
Monday saw the world's largest gold ETF, the SPDR Gold Trust (NYSEArca:GLD) shrink by 0.5% to 958 tonnes as shareholders liquidated positions, retreating further to its smallest size in July from the 2-year peaks hit mid-month.