GOLD PRICES slipped on Friday in London, heading for a small weekly loss against the US Dollar and the Euro as world stock markets trimmed their earlier 2.8% rally from last weekend.
Geopolitical headlines meantime focused on the G20 meeting of major-economy political leaders in Buenos Aires, where US President Donald Trump is scheduled to discuss the worsening trade war with his Chinese counterpart Xi Jinping, but won't now meet with Russia's President Putin, blaming Moscow's seizure of three Ukrainian naval ships.
Trump's move was linked by some commentators with
Thursday's news
that the US President's former attorney Michael Cohen now says he lied about the celebrity real-estate magnate's Russian connections.
After Ukraine's President Poroshenko asked Nato to
send ships this week
, he has now blocked all Russian men aged 16-64 from entering his country.
Dropping through $1220 per ounce for US investors, gold prices held firmer for UK investors as the Pound fell amid fresh Brexit deal wrangling.
UK Prime Minister Theresa May today suggested in an interview from the G20 summit that she may ask Parliament to vote a second time if lawmakers reject the deal she's agreed with the European Union.
"Only the 'ultras' have kept in place their ideologically-driven view that 'no deal' is a pain-free option," says one long-time pro-Brexit blogger.
Looking at this week's government and
central-bank warning
that 'no deal' could shrink UK GDP by 8%, knock one-third off house prices and push the Pound down by 25%, "If the UK gets caught in a spiral of negative feedback," Richard North goes on, "
the damage could be far worse
than the Bank of England is suggesting."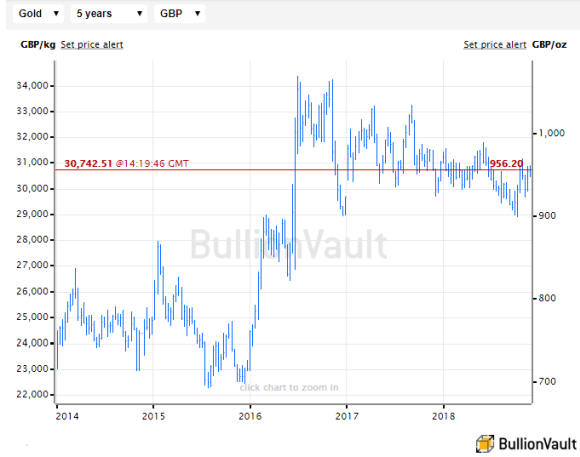 Holding a small gain for the week meantime,
European stock markets
were capped by financial shares as German giant Deutsche Bank (ETR: DBK) slide over 2% after government investigators raided its offices again, seeking evidence of potential money laundering.
Deutsche's stock has now almost halved in 2018 so far.
Peaking above $1228 per ounce on Thursday, gold prices yesterday recovered this week's earlier 1% drop versus the Dollar after Federal Reserve chief Jerome Powell hinted that the US central bank is nearing the end of its interest-rate hiking cycle, starting at end-2015.
Like gold, the single Euro currency on Friday also gave back some of its
post-Powell gains versus the Dollar
after new data from the world's second largest economic bloc pointed to a slowdown.
Italy showed a drop in GDP for the July-September period from the second quarter, and Eurozone unemployment then held at 8.1% in October instead of ticking lower as analysts forecast.
'Core' inflation meantime slowed last month to 1.0% per year across the 19-nation single currency union, while the headline rate slowed to 2.0% on the drop in fuel prices.
"The yellow metal made a slow grind higher through Asian hours,"
says one trading desk
, noting that the Shanghai premium – a measure of prices versus London quotes, and so a guide to demand and supply inside China, the metal's No.1 consumer nation – held at $6 per ounce, only two-thirds of typical levels.
"A fall in demand from jewellers as well as retailers has kept pressure on the prices."