GOLD PRICES slipped Monday morning, writes Atsuko Whitehouse at BullionVault, dropping to $1185 per ounce as China's gold market shut for the week-long National Day holidays and the United States reached a "last minute" trade deal with Canada overnight.
Tokyo's Nikkei 225 Stock Average rose to its highest close since 1991, but other Asian markets were quiet with Labor Day in Australia and Hong Kong shut with Shanghai for the National Day holidays.
Already agreed with fellow Nafta trade-deal partner Mexico, the new United States-Mexico-Canada Agreement (USMCA) will widen access for US producers to Canada's dairy market and also cap Canada's car exports to its southern neighbor.
Both the Canadian Dollar and the Mexican Peso jumped on news of the deal, but the US Dollar's trade-weighted index – measuring its value against a basket of major foreign currencies – held firm ahead of this week's key US jobs data report, due Friday.
"Gold prices remain dependent on the Dollar at this juncture," reckons Singapore bank OCBC's analyst Barnabas Gan.
"The US economy has been better than expected. Efforts by the Trump administration to reduce the trade deficit [have] been
friendly for the greenback
as well."
Betting against gold prices by hedge funds and other 'Managed Money' traders last week grew for the 11th week running on Comex futures and options, according to US regulator the
CFTC's data series
. 
Net of that group's bullish bets, the overall short position grew 3.9% to the equivalent of 240 tonnes, the heaviest net short in the 3 weeks.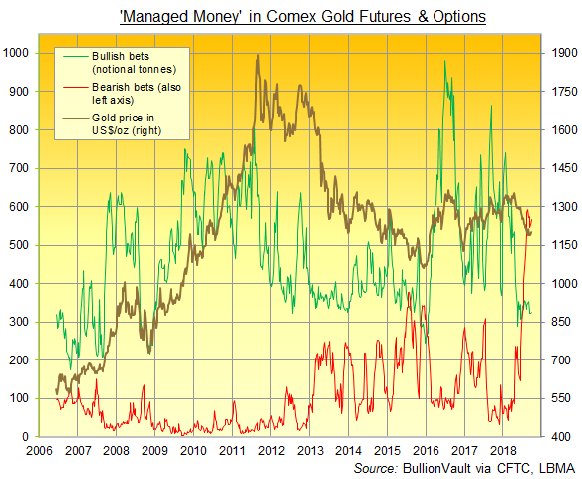 "Investors
acquired new shorts
and continued to shed long gold exposure ahead of the Fed's rate decision, which was expected to yield a hike," says a note from Canada's TD Securities brokerage. 
Italy's government bond prices meantime fell for a third session on Monday morning, pushing the yield on 10-year debt up near fresh multi-year highs after the ruling coalition of left and right-wing "populiust" parties made a budget deficit forecast at 2.4% of gross domestic product, three times the previous administration's target debt-to-GDP target.
Italy's president and its central bank governor on Saturday warned that the country's debt must remain sustainable.
European stocks opened steady but banking stocks fell after La Repubblica reported that the EU Commission will reject Italy's budget proposal in November.
Gold priced in the Euro currency reversed an early drop to trade back up at €1025 per ounce.
Silver prices edged down to $14.58 after jumping 2.5% on Friday to hit $14.72, a 4-week high.