GOLD PRICES fell on Tuesday morning as the US dollar gained on renewed fears of an intensifying US-China trade war.
Bloomberg reported on Monday that the U.S. is preparing to announce tariffs on all remaining Chinese imports by early December if talks next month between Presidents Donald Trump and Xi Jinping fail to ease the trade war.
Spot gold prices fell 0.7% to $1220.67 per pounce Tuesday lunch time after losing 0.3% on Monday.
Dollar index (DXY), measuring the value of the dollar against a basket of six foreign currencies were up 0.36% to 96.93, highest in more than 17 months.
"There is a little bit of pressure from the dollar for now. But overall gold prices look fundamentally supported. Market sentiment is still very cautious. We feel upside potential for gold at $1,255 is highly possible," said Benjamin Lu, a commodities analyst with Phillip Futures.
"Gold prices have started to receive some strength, unlike the previous two quarters, from geo-political factors. Dollar potential is still very strong and may limit upside gains for gold prices but it doesn't look like gold will lose steam due to the dollar vigour just yet."
Bullion's recent advance "happened on the back of the market sell-off and spike in volatility," analysts including Mikhail Sprogis and Jeffrey Currie at Goldman Sachs Group Inc., wrote in a report on Monday. "In our view, it represents a rebound in fear-related demand for gold with ETFs beginning to build after several months of decline."
Holdings in the world's largest gold-backed exchange-traded fund, SPDR Gold Trust, saw outflows of about 129 tonnes between May and September. So far this month holdings increased by 12.7 tonnes with 5.3 tonnes added on Monday taking the total to 759 tonnes.
It is set to record the first monthly gain since April.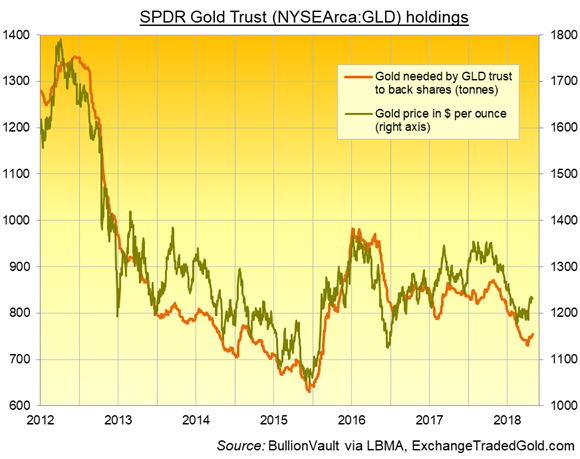 "While we think that the U.S. cycle still has room to run it doesn't mean that markets will not worry about it coming to an end," Goldman said.
It described bullion's fundamentals as solid, and kept its three, six and 12-month forecasts at $1,250, $1,300 and $1,350 respectively, but sees upside risks once U.S. growth begins to slow.
European stocks opened higher after Wall Street was hit late on Monday, and Chinese equities opened lower on Tuesday, with the possibility of more U.S.-China tariffs and a drop in tech stocks.
The sentiment was then helped after Mr Trump told Fox News that "I think we will make a great deal with China, and it has to be great because they've drained our country."
Chinese stocks were also helped by the country's securities regulator which said it would encourage share buybacks and investment from insurance companies, in the latest statement from officials.
China's CSI 300 index of major Shanghai and Shenzhen stocks was up 1.7% while China's renminbi slipped to a fresh 10-year low against the dollar. South Korea's Kospi Composite gained 1% and Japan's Nikkei 225 Index was up 1.45%.
Early afternoon on Tuesday European stocks fluctuated with underwhelming European economic data.  FTSE 100 was up 0.14 %, Dax declined 0.36% and CAC lost 0.28%.
 
The London Bullion Market Association (LBMA) will begin publishing data on 20 November that will provide the most accurate picture yet of the size of London's gold market, its chief executive said on Monday.
London Bullion Market Association's 2018 conference ends today in Boston, Massachusetts. Next year's event will be held in Shenzhen.