GOLD PRICES held $10 per ounce below yesterday's spike to new 5-month highs as London's bullion market re-opened for business after the long Easter weekend on Tuesday, trading at $1285 amid fresh geopolitical headlines, cited by analysts as driving this month's 3% gain to date.
After Turkey's referendum result 
narrowly backed
President Erdogan's push for greater powers, UK Prime Minister Theresa
May today called a snap General Election
for early June – widely seen as an attempt to win a "mandate" for her "hard Brexit" approach to negotiating Britain's exit from the European Union.
The British Pound rose to a 10-week versus the Dollar and a 7-week high against the Euro, squashing the gold price for UK investors over 2% lower from Easter Monday's early spike to new 5-month highs at the start of Asian trade.
London's stock market led European equities lower, dropping 1.5% from last Thursday's close as the EuroStoxx index of the region's 50 largest shares lost 1%.
With European bourses and the London gold market shut Monday for the long Easter weekend, the number of Comex futures contracts
changing hands
yesterday fell 25% from the previous 3 trading days' average, dropping to the fewest in a week.
Latest data show money managers growing their bullish betting on Comex gold futures and options, net of bearish bets, to the highest level last week since Donald Trump won the US election last November.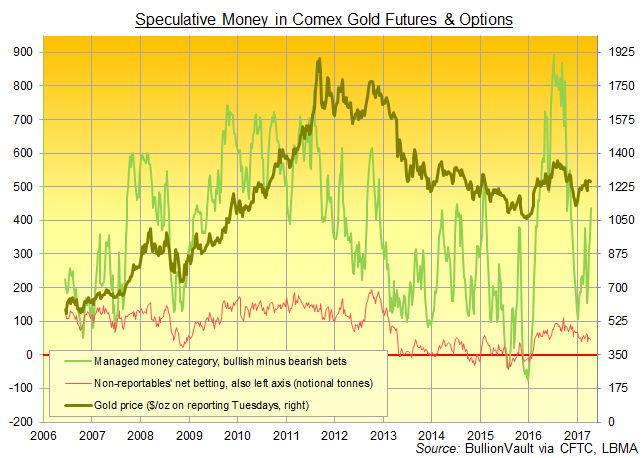 The net speculative long position in silver grew faster, however, setting a new all-time high by number to reach the equivalent of 15,732 tonnes of metal.
US regulator the CFTC's data for last Tuesday say the Managed Money category's net speculative long position was
worth just over half the notional value
of Comex gold's net speculative long. That compares to a historical average of one fifth.
By notional value, silver's net speculative long amongst the Managed Money category of traders reporting to US regulator the CFTC was 6% below its peak by value of last July.
Gold's net spec long was 58% below its peak by value of August 2011.
Platinum's managed-money position was meantime worth just 4% of its all-time peak by value of January 2013.
That left the GLD gold ETF needing a 2017 high of 849 tonnes in bullion backing. The iShares Silver Trust (NYSEArca:SLV) in contrast needed near a 12-month low at 10,201 tonnes.
Tuesday morning's
LBMA Gold Price
in London – the twice-daily global benchmarking auction – met little demand at an opening 'spot' gold price suggestion of $1286.50, but then found a balance with strong offers to sell at $1285 per ounce.
Parameters around the process are currently being "reviewed" by independent administrators IBA after
last Tuesday afternoon's process closed "almost 1% away
from the prevailing…indicative…price" amid Trump's stand-off with the Kremlin in Moscow over Russia's support for the Assad regime in Syria.
"If the USA encroaches upon our sovereignty," said North Korea's vice-foreign minister Han Song-ryol
to the BBC
this weekend, "then it will provoke our immediate counter reaction and if it is planning a military attack against us, we will react with a nuclear pre-emptive strike by our own style and method."
"With investors still considering the fluid situation between North Korea and the US," says a note from Swiss refining and finance group MKS's Asian trading desk, "as well the upcoming French election, there is no doubt strong underlying interest supporting [gold prices] around current levels."
Shanghai gold prices today retreated 0.5% from Monday's new 5-month high at China's afternoon benchmarking auction.
Coupled with a drop in the Yuan's exchange-rate value, that held the premium over global Dollar quotes for London settlement beneath $8 per ounce – the lowest since immediately after the Chinese New Year holidays ended at the start of February.