GOLD PRICES whipped amid sharp currency swings on Friday as global stock markets fell hard after US President Donald Trump defended plans for stiff tariffs on imports of steel and aluminum into the world's No.1 economy by declaring that "trade wars are good".
Proposing 25% tariffs on imports of steel and 10% on aluminum last night, "When we are down $100 billion with a certain country and they get cute, don't trade anymore," Trump tweeted on Friday morning.
Having erased the last of 2018's previous gains to drop back to $1302 by mid-week, the gold price in US Dollar on Friday jumped to $1323 per ounce but held almost unchanged for the day in Euro terms.
The US Dollar meantime rose versus the Chinese Yuan and jumped to 10-week highs against the Canadian Dollar, but it sank versus the Japanese Yen to its lowest level since Trump won the US White House election in November 2016, trading just above ¥105.
Dropping slightly against most major currencies for the week, gold bullion fell hardest against the Japanese Yen – down 2.0% for the week to a 7-month low.
But gold bullion held on track for a weekly price gain versus the Australian and Canadian Dollars, and the UK Gold Price in Pounds per ounce recovered all of last week's 1.0% drop to touch £960 as British Prime Minister Theresa May prepared to give a heavily trailed speech on the UK's future trading relationship with Europe, also intended to "bring our country together" ahead of Brexit, now just 12 months away.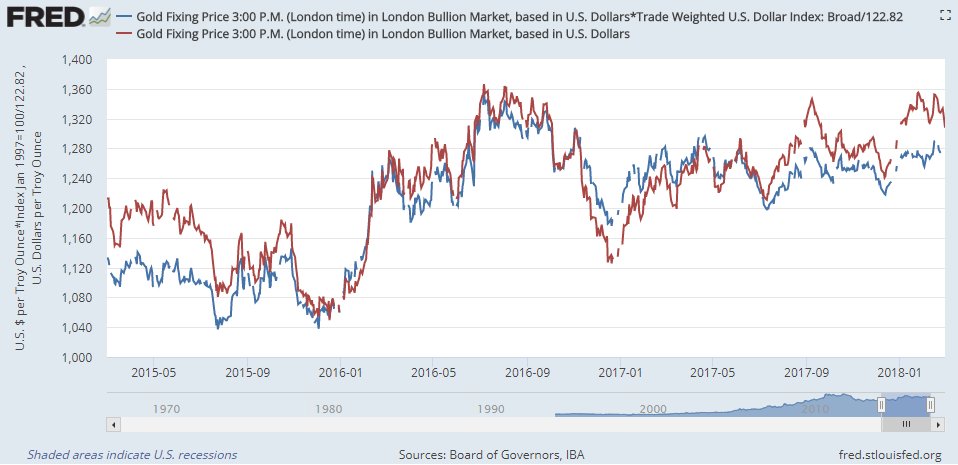 "New support comes in at $1301.80," says the latest technical analysis of gold prices from Russell Browne at London market-maker Scotia Mocatta's New York office, pointing to the  "the 50% Fibo retracement level of the Dec low [to] Jan' high, which nearly coincides with the 100 Day [moving average].
"Near term resistance [sits] at $1324.60, the 50 Day MA."
Both Asian and European equities meantime extended Wall Street's overnight slump following Trump's proposals, with shares in Japan's Nippon Steel losing over 4% for the day.
Accused of dumping steel onto world markets, China was in January "strictly forbidden" from adding any new steel capacity by Beijing's Ministry of Industry and Information Technology, also declaring it would "make sure all outdated steel capacity is eliminated and prevented from reopening."
China's total trade balance with the rest of the world has turned negative, as BullionVault noted yesterday, thanks to surging imports of services.