GOLD PRICES fell to 2-week lows against all major currencies bar the Japanese Yen in London trade Thursday as the Bank of England surprised the markets by holding UK interest rates and its QE bond-buying scheme unchanged in response to late-June's Brexit result in the referendum on leaving the European Union.
Falling to $1322 per ounce as Western stock markets rose once again, gold priced in Dollars has now lost almost 4% from Monday's new 2-year high.
Gold had already fixed at its lowest Yuan price since 1 July at
Shanghai's afternoon benchmarking auction
, with Swiss refinery MKS's Asian desk reporting strong "selling interest [also] during early London trade."
Silver was firmer once more, slipping only a little below last week's finish to hold at $20.12 per ounce as New York trading began.
The Bank of England's monetary policy committee defied analysts and market expectations with
only 1 member of the 9-person team
– economist and former bond strategist Gertjan Vlieghe – voting to cut rates from their current 0.5%, already the lowest ever rate since the Bank opened more than 3 centuries ago.
Sterling jumped to touch 2-week highs on the forex market, but then eased back as traders read the accompanying statement and 11 pages of minutes from yesterday's meeting, concluded before new UK finance minister Philip Hammond was announced by prime minister Theresa May, herself only moving into No.10 Downing Street on Wednesday.
"Were the Bank going to do more quantitative easing," notes SkyNews economics reporter Ed Conway, "it
would have needed the Chancellor
's approval…[but] at the time there was no Chancellor."
Gold priced in Sterling immediately sank £20 per ounce as the Pound recovered all of July's losses to the Dollar on the news.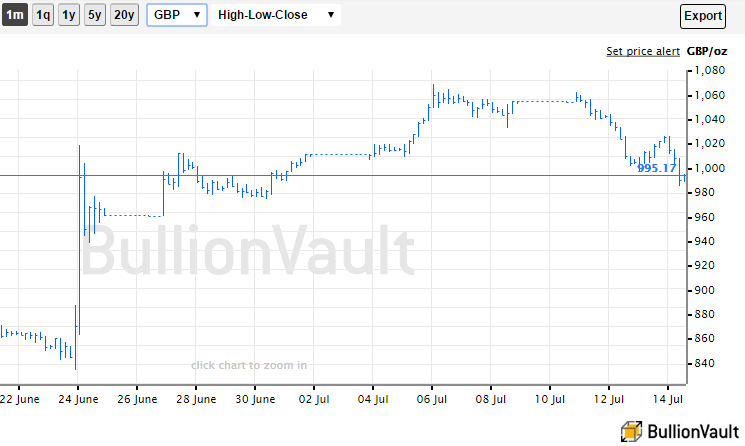 Dropping through £1000 for the first time this month, gold then rallied above £990 – a sudden 3-year high when reached by the spike of
Brexit Friday
– as the Pound then eased back.
London's stockmarket erased an earlier 1% gain as the UK rate decision was announced, but Frankfurt and Paris pushed 1.5% higher for the day.
'Safe haven' currencies the US Dollar, Japanese Yen and Swiss Franc all slipped lower again on the FX market.
Major Western government bond yields all edged higher, suggesting lower investor tension, as their prices also retreated.
The probability of a hike to 0.75% in September, however, jumped overnight from 1-in-10 to stronger than 1-in-6, with a 5% chance that the Fed's ceiling on US rates will be raised to 1.00% by end-2016.
But "even if the negative scenario holds," says Nobel economist, Princeton professor and
New York Times
columnist Paul Krugman, "the pent-up investment spending that was put on hold
should come back
.
"This doesn't just mean that the hit to growth is temporary: there should also be a bounce-back, a period of above-normal growth."
UK house sales and prices both fell markedly on June's Brexit result, the Royal Institution of Chartered Surveyors said Thursday, with
RICS monthly survey
saying that buyer enquiries fell for the 3rd month running to the lowest level since 2008, while 1-year price expectations amongst surveyors turned negative in London and eastern England.