GOLD PRICES sank $30 per ounce on Monday morning in Asia and London while the US Dollar and world stock market jumped after yesterday's statement from the FBI that it found "no criminal wrongdoing" in emails privately sent or stored by would-be president Hillary Clinton, writes Steffen Grosshauser at BullionVault.
With polls putting the Democrat candidate
3 points ahead
of Republican Donald Trump, the US Dollar Index, which measures the greenback against a basket of its major counterparts, surged as this week's trading began in Asia, reversing a 6-day loss.
Gold prices plunged, losing over 1% immediately and extending the drop from $1304 to $1283 per ounce after rising more than $50 in the previous 3 weeks.
Asian stock markets gained over 1% on average, and Western Europe's index of the region's 300 largest shares rose 1.2% – the strongest rally in three weeks.
Futures contracts on the S&P500 in New York pointed higher after the stockmarket index marked a record 9th losing day in succession on Friday.
"It looks like the market is [now] overwhelmingly
pricing in a Clinton victory
," said Vyanne Lai, economist at National Australia Bank, overnight.
"The US Dollar has jumped, which in turn is weighing on gold prices. You can see there's some sort of a relief rally in the equity market as well."
Latest data released Friday showed the 'Managed Money' category of speculators growing their net bullish betting on Comex gold futures and options last week to 140% of the 10-year average.
The net number of bullish bets however remained one-third smaller from early July's new record high, hit in the aftermath of the UK's Brexit referendum shock.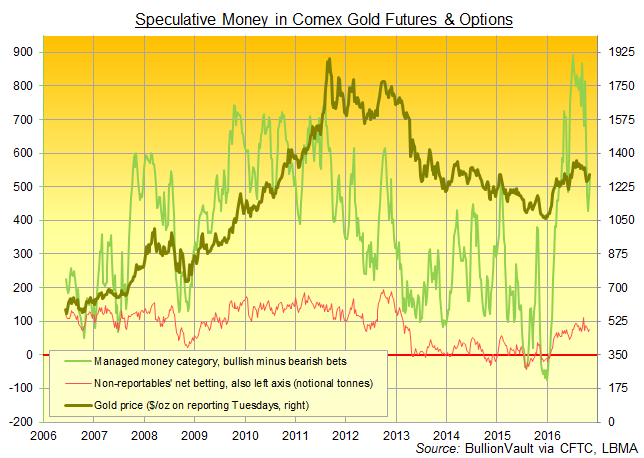 "The [FBI] news has just taken a bit of the heat out of that safe-haven buying for gold," reckons ANZ Bank analyst Daniel Hynes
"All bets are off on election day. [And then] once we get past the US election, the focus will return to the Fed," Hynes adds.
"I suspect we could see some weakness leading into the [December] meeting if the economic data in the US continues to be strong."
The British government was meantime
reported to be preparing a draft bill
for Parliament to approve Article 50, staring the 2-year countdown to exiting the European Union, after the High Court last week rejected the Government's claim it could begin Brexit using Royal prerogative instead.
In other metals, silver prices followed gold prices lower but held firmer, dropping only one-third of last week's 3.8% gain to trade down at $18.21 per ounce.