GOLD PRICES rose back above $1320 per ounce versus the falling Dollar in London's wholesale trade on Friday, heading for the highest weekly close in 16 after new data said the United States added far fewer jobs than analysts expected last month.
The official
non-farm payrolls estimate
also put average annual wage growth in December at 2.5%, unchanged from November's pace when inflation was seen at 2.2%.
That month's US trade deficit meantime came in today near a 6-year record at almost $50 billion, up 3.2% and wider than analyst forecasts.
The Dollar fell hard on the FX market, with the Euro jumping back towards this week's attempt at 3-year highs just below $1.21, while the British Pound also tested last September's multi-month peak.
The gold price for Eurozone investors traded below €1095 per ounce, some 1.9% lower from this day last year.
The Dollar had already fallen overnight to its lowest level against the Chinese Yuan since September's spike to 18-month lows.
So-called "digital asset" Bitcoin today rallied to a 2-week high at $15,900 as competitor "currency"
Ethereum
extended its rise above $1000, more than tripling from this time 3 months ago.
Unlike Bitcoin – now down 25% after rising 12-fold in the year to mid-December – Ripple was launched and is controlled by one company,
with no technological limit
on the number of units in issue.
"As investors were consumed with Bitcoin's price action in December,"
says CNBC
, "many missed the longest winning streak ever" in gold-backed vehicle the SPDR Gold Trust (NYSEArca:GLD).
The 13-year old exchange-traded gold trust "rallied for 11 straight days before dipping into the red on Wednesday," it says.
Investors have failed to buy into the GLD's rally however, analysis by BullionVault shows.
Since bottoming at 5-month lows on 12 December, Dollar gold prices have now risen 6.8%.
The GLD in contrast has shrunk 0.8% in size as investors liquidated stock, needing 7 tonnes less gold to back the value of its shares outstanding, now near the lowest since mid-September at 836 tonnes.
While the gold price ended Thursday 12.9% higher from 12 months ago, the GLD was only 2.7% larger year-on-year.
With gold prices this strong, that's the widest gap since April 2012.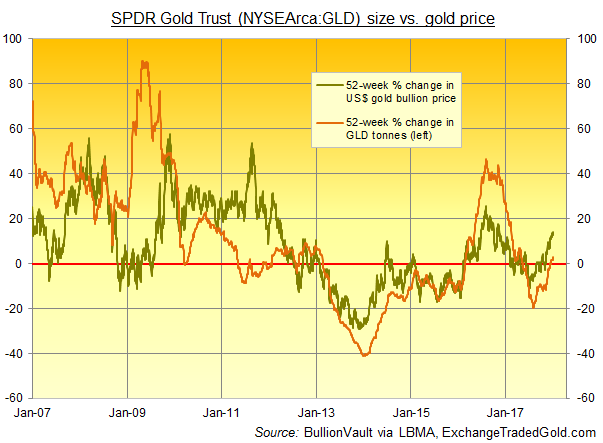 Shanghai gold premiums meantime held below $7 per ounce on Friday, more than $2 beneath the average incentive offered for new imports into the world's No.1 gold consumer nation despite next month bringing both Valentine's Day and the annual demand peak of Lunar New Year.
"Strong physical demand leading into the Chinese New Year is yet to materialise this year," says Swiss finance and refining group MKS Pamp trader Alex Thorndike to Reuters.
"Premiums in Hong Kong were at about 70 cents an ounce, unchanged from last week,"
the news-wire adds
.
Platinum prices meantime held near Thursday's new 15-week highs at $966 per ounce even as a new report said
sales of diesel cars
– which use platinum catalysts to reduce harmful emissions – sank 17% in the UK in 2017.
Silver prices
also traded near yesterday's peak, holding over 10% higher from mid-December's low against the Dollar – made just as the US Federal Reserve raised its key interest rate for the third time in 2017 – to reach $17.23 per ounce.
"Support is at $16.97 – the 200-Day Moving Average," says the latest technical note from bullion bank Scotia Mocatta's New York office, "and momentum indicators are bullish.
"Silver appears poised to target the November High at $17.38."