GOLD PRICES were little changed Monday morning in London while a rate-hike panic hit other major financial markets after last week's hawkish Fed comments – plus the sudden announcement of a speech today by a key voter – sparked a big shift in expectations for next week's meeting, writes Steffen Grosshauser at BullionVault.
Friday's global sell-off in stocks and bonds resumed, extending Wall Street's slump after Boston Fed president Eric Rosengren said
higher rates are needed
to stop the US economy from overheating.
Fed governor Lael Brainard meantime scheduled a sudden speech for later today, spurring trader chatter that she also wants to alert the markets to a shift from her previously dovish view.
Shares in Europe and Asia headed for their biggest loss since the
aftermath of the UK's Brexit vote
in June, with Hong Kong's Hang Seng going down 2.6%, as government bond prices fell, driving
10-year US yields
to their highest since that referendum shock at 1.68%.
In contrast, gold prices – typically seen as sensitive to monetary policy expectations – hardly changed from Friday's close in Dollar terms, and rose against non-US currencies.
Hedge funds and other large speculative players increased their net long positions in Comex gold contracts to a 9-week high in the week to 6 September, according to data released Friday by US regulator the Commodity Futures trading Commission.
But now "expectations are increasing about a potential hike in rates this September," said ANZ analyst Daniel Hynes.
Gold bullion holdings to back the value of the SPDR Gold Trust (NYSEArca:GLD), the largest ETF gold product, fell 1.1% to 939.94 tonnes last Friday as gold prices fell 0.8%, suffering the third consecutive day of losses.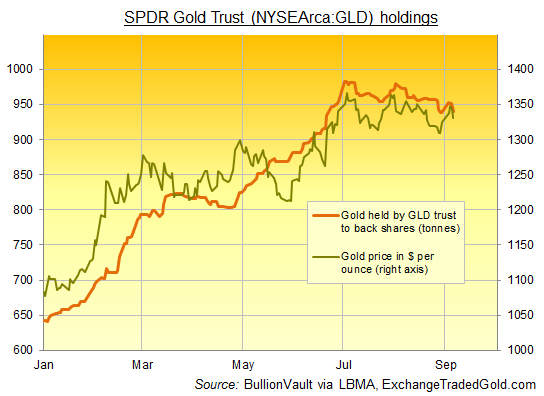 Trading in a range between $1325 and $1330 per ounce ahead of Brainard's speech on Monday – the last Fed opinion before the September meeting – gold prices rose back above £1000 per ounce for UK investors and €1180 for Eurozone buyers.
"Gold, which has seen comparably mild pullback over the past few sessions, was again more robust than its counterparts [i.e. other precious metals] today," writes Swiss refining and finance group MKS in their daily note.
"Yet we suspect there may be some more volatility ahead with Brainard's speech today."
Silver prices initially held firm with gold and then rallied to regain most of a 1.8% drop, bouncing higher from $18.72 per ounce.
"The importance for gold in these [Fed member] comments lies in the reaction of the forex and US bond markets," says a note from bullion market maker HSBC in London.
"With a still relatively low likelihood of a September rate rise priced into the market, a hawkish speech […] would very likely put bullion come under distinct selling pressure," says the bank's analyst James Steel.
"On the other hand, a markedly dovish speech may not be especially bullish for gold, as the market, at least up until Mr.Rosengren's speech, had ascribed a relatively low probability to a September rate rise."