GOLD PRICES rose sharply against all major currencies except the Yen on Wednesday, touching 1-week Dollar highs ahead of the US Fed's long-awaited September decision on interest rates as world stock markets rose after the Bank of Japan removed all time limits on its QE money-creation scheme and vowed to push inflation above its 2.0% target.
Chinese gold prices
fixed higher
on quiet volume before the Dollar price hit almost $1330 per ounce in London trade.
Silver prices rose faster, adding almost $1 per ounce from last Friday's finish to hit 2-week highs of $19.72, as crude oil rallied for a second day, pulling broad commodity indices 0.8% higher against the Dollar ahead of the US Fed's announcement, due at 13:00 Washington time (UTC -4).
Leaving its deposit interest rate at -0.1% and keeping QE asset purchases at ¥80 trillion per year ($780bn), the
Bank of Japan on Wednesday said
this summer's "comprehensive assessment" of policy has led to a new regime of "Quantitative and Qualitative Monetary Easing with Yield Curve Control".
Specifically, it will target keeping 10-year government bond yields at zero per cent while easing the rules for which other assets to buy at what prices, and removing all time-frames for ending its QE program.
The Bank also made a new "commitment to overshooting" its inflation target of 2.0% per year, vowing to "expand the monetary base…to shift peoples' entrenched deflationary mindset…at the earliest possible time."
Tokyo's Topix stock index jumped 2.7% while Japanese government bond prices fell, briefly pushing
10-year JGB yields
above zero for only the second time in 6 months before they retreated to offer new investors -0.04% per annum.
Gold priced in Yen initially jumped 1.6% as the Japanese currency weakened on the FX market.
But gold bullion for Japanese investors then retreated as the Yen swiftly reclaimed that drop, and the Dollar fell to new 4-week lows at ¥100.
New data today said Japanese exports fell almost 10% per year in August, the 11th consecutive monthly decline.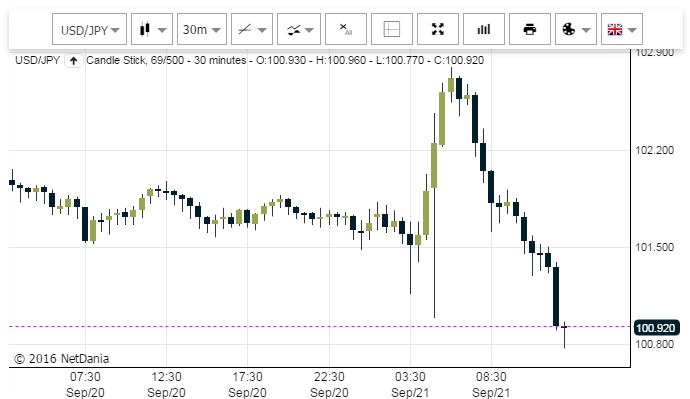 "The Bank of Japan [is] seemingly gambling on the idea that US Treasury yields will rise as the Fed tightens policy," says a note from Chinese-owned ICBC Standard Bank's FX strategist Steven Barrow.
"So its decision to anchor 10-year JGB yields at zero could prove a masterstroke…potentially a clever way for the BoJ to lift dollar/yen while not falling foul of G20 accusations that it is engaged in currency manipulation."
The Bank of Japan's inflation target "overshooting promise [in contrast looks]
somewhat odd
," notes University of Birmingham economics professor Tony Yates.
"No new [policy] instruments. Why should new higher target work when old one not hit?"
Ahead of the Fed decision meantime, "Support [in gold prices] is at $1306,"
says technical analysis
from Russell Browne at bullion bank Scotia Mocatta's parent Scotiabank, pointing to the 100-day moving average of the gold price, "while resistance is at 1333 (50 day MA).
"The metal appears to be consolidating within this range over the last 7-8 days. Momentum has picked up slightly."
"Within [gold's recent] mildly descending channel," says Stéphanie Aymes, head of technical analysis at French investment and London bullion market-making bank Societe Generale, "[the] lower limit at $1307/$1300 remains a key support area", marking the neckline of
an inverted head & shoulders pattern
identified earlier in 2016's strong gold price rally.
Below the gold price's pre-Brexit high of $1297 "[sits] the 2016 uptrend [now] at $1266 which protects key support at $1200-1192," notes weekly technical analysis from German financial group Commerzbank.
But with the metal now "comfortably back above the major support zone of $1300-1305," says a
trading desk note from Swiss refiners MKS Pamp
, "markets [are] continuing to gear up for what will likely be some marked volatility" around the Fed announcement.