GOLD PRICES rose above $1270 per ounce Monday lunchtime in London, extending last week's first gain in four as the Dollar retreated from a fresh 8-month high on the FX market, write Steffen Grosshauser and Adrian Ash at BullionVault.
This week brings key third quarter US GDP data, seen by many analysts as crucial to a Federal Reserve rate hike in December following next month's presidential election.
World stock markets ticked higher, as did major government bond prices, while crude oil fell back towards $50 per barrel.
Silver bullion outpaced the 0.4% rise in gold prices to touch near 2-week highs at $17.80 per ounce.
Friday saw bullion holdings at the world's largest gold-backed
exchange-traded fund vehicle
– the SPDR Gold Trust (NYSEArca:GLD) – shrink 1.7% to 953.56 tonnes as shareholders liquidated stock.
Only the second daily outflow from the GLD so far this month, that 16.6 tonne redemption was the heaviest drop in that ETF since gold's worst price crash in three decades of April 2013.
Speculative traders in Comex gold futures and options meantime cut their bullish bets, net of bearish bets as a group, to the lowest size since March last week according to data released by regulator the CFTC late Friday.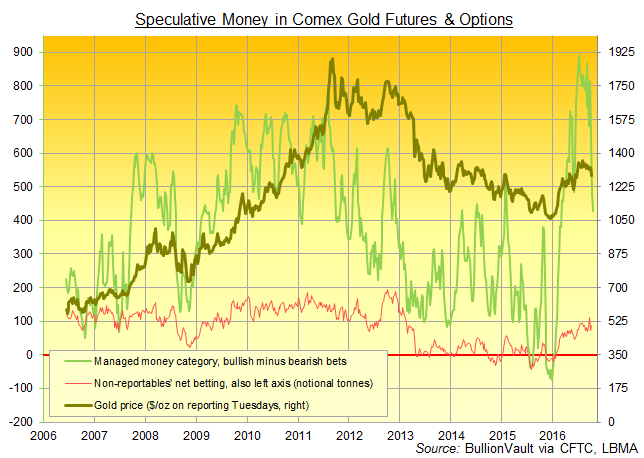 The 'Managed Money' category cut its net bullish position for the third time running in the week-ending last Tuesday, reducing it to the equivalent of 426 tonnes.
'Managed Money' accounts ended 2015 with net bearish bets overall, equivalent to 75 tonnes' worth of derivatives contracts, as prices hit new 6-year lows at $1045 per ounce.
Their 'net spec long' position then hit a record high at 892 tonnes in July, just as gold prices peaked at $1375 per ounce following the UK's Brexit referendum shock.
Comex silver speculators meantime cut their betting to April levels, but the giant iShares Silver ETF (NYSEArca:SLV) needed near-record quantities of bullion backing, totalling some 11,395 tonnes.
"People are watching the US elections and [economic] data is on the positive side, favourable for a rate hike," reckons Hareesh V, research head at India brokerage Geofin Comtrade Ltd.
"As long as prices stay below the $1300 mark, the
downward trend might continue
. Prices need to break convincingly above the $1300 level for a strong upside movement."
This week brings third-quarter GDP growth figures from the United States, Eurozone and UK.
Today sees four US Fed policymakers gives speeches.
Non-voting member John Williams, president of the San Francisco Fed, said Friday that "
this year would be good
" for a rate rise to follow the December 2015 move after 7 years at zero, with further "gradual" increases in 2017.
"The Fed is going to increase the rates by a
little bit but not excessively
," counters hedge fund legend Mark Mobius of the Templeton Emerging Markets Fund, "and there is no guarantee that a rise in interest rates will put people off.
"A lot will depend on the real rates," says Mobius, forecasting a 15% rise in gold prices before the end of next year.