GOLD PRICES retreated up to 4% from last week's multi-year Brexit highs versus major currencies Tuesday, testing $1305 per ounce in US Dollars as world stock markets rallied and government bonds eased back from new records.
French and German stock markets rallied back towards Friday's closing level, reversing yesterday's further 3% drop.
London's domestically-focused FTSE250 index also rose, but recovered only one-fifth of its 14% Brexit plunge so far to 18-month lows.
"The flight to safety since Friday is only likely to have further elevated the long positioning," says the latest weekly note from Japanese conglomerate Mitsubishi's London precious metals analyst Jonathan Butler, pointing to last week's
record-high speculative bullish betting on gold and silver
.
"[That] brings the threat of profit taking in the near term, particularly if risk-off sentiment fades," he adds, also warning that the surge of investors holding
exchange-traded trust fund vehicles
related to gold prices may unwind if they "go in search of yield as the economic picture becomes clearer."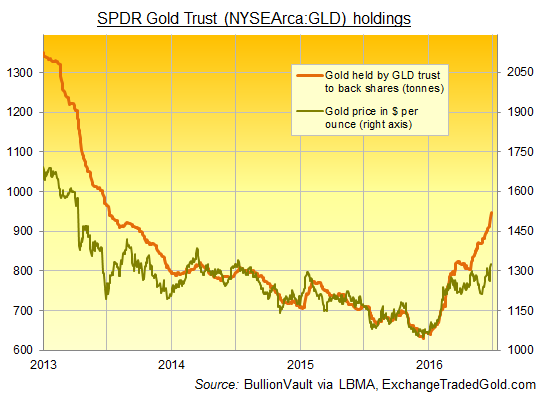 But while such factors could "result in downside for gold, [Mitsubishi's] basic assumption is that investors will continue to turn to gold as a risk hedge in the short to medium term."
Gold prices in China edged back Tuesday from yesterday's new 3-year highs, fixing at the equivalent of a $6 per ounce premium to London spot quotes at the
afternoon benchmarking in Shanghai
.
Trading volume in the Shanghai Gold Exchange's main spot contract meantime held at twice its typical level, but was only one-third the new record set last Friday as news of the UK's Brexit vote result broke.
Politically meanwhile, and asking victorious UKIP member of the European Parliament Nigel Farage "
Why are you here?
" on Tuesday, European Commission president Jean-Claude Juncker said the UK should "clarify its position…as rapidly as possible".
With British prime minister David Cameron refusing to trigger Article 50 after he campaigned and lost for Remain last week, a successor may not be in place
until early September
his Conservative Party said Monday.
UK GDP growth will slow to "around zero in the second half of 2016 and into early 2017," reckons Swiss bank UBS's London economist David Tinsley.
Ratings agency S&P
yesterday cut its long-term view
on the UK from the highest 'triple-A' level to 'AA', saying that the Leave result "will weaken the predictability, stability, and effectiveness of policy-making in the UK."
A 'risky trinity' of rising debt levels, low productivity and little room for central-bank rate cutting means "this huge Brexit shock [threatens to] wreak havoc for the Pound and asset prices," says Chinese-owned investment and bullion bank ICBC Standard Bank's FX strategist Steven Barrow.
"Some semblance of recovery could occur if the UK [central bank] can save the economy from recession. Unfortunately we are not too hopeful."