GOLD PRICES rose against a falling US Dollar on Friday, halving last week's 1.9% drop to trade back above $1220 per ounce as Western stock markets fell and crude oil rallied from this month's 17% plunge so far.
The Pound rallied 1 cent against the Dollar after plunging yesterday to new November lows, reclaiming a $1.28 handle to trade only 1.5 cents down for the week.
The Euro meantime regained the last of a 1.5-cent drop against the Dollar to rise back near $1.1350, but European stock markets erased early gains to trade 2.5% down for the week in terms of the single currency.
While crude oil extended its bounce from this week's 12-month lows to 5.1%, silver and platinum also rose with gold prices on Friday, adding 1.6% and losing 1.0% respectively from last Friday at $14.37 and $844 per ounce.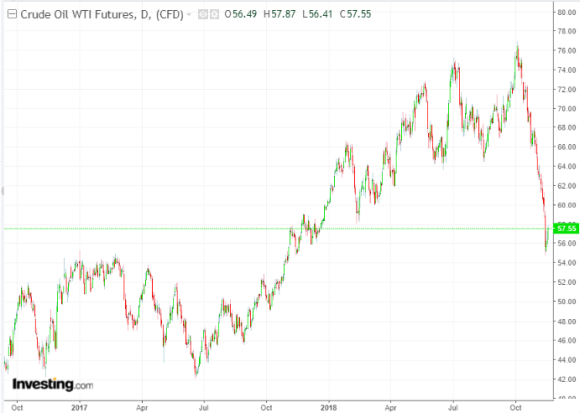 "The focus of the market has turned slightly to geopolitical issues."
"Investors are a bit more interested in gold," agrees Dutch bank ABN Amro, "[and] the momentum is up.
"We may go to $1250 in the short term."
Priced in the weakened British Pound, London's FTSE100 index of international companies fell on Friday back below 7,000 – a record high when first reached in spring 2015 – but curbed its weekly drop to 1.5%.
The more UK-focused FTSE250 lost 2.3% from last Friday's finish.
UK government bond prices edged back from Thursday's surge, nudging the yield offered to buyers of London's 10-year debt up to 1.40% from yesterday's 14 basis-point plunge to the lowest since August.
Shanghai gold prices meantime rallied 0.9% from this week's 1-month lows in Yuan terms, closing Friday above ¥272 per gram.
US President Donald Trump was meantime said overnight to be
considering Turkey's request for extradition
of self-exiled cleric Fetullah Gülen – accused by Ankara of masterminding a failed coup in 2016 – in exchange for easing its pressure on White House ally Saudi Arabia over the murder of journalist Jamal Khasshoghi last month in Istanbul.
Following the loss of the House to Democrats in last week's mid-term elections, a bipartisan group of US senators is
pushing for sanctions against 17 Saudis
allegedly involved in Khasshoghi's death.
After Riyadh said last weekend it may cut 2019 oil output to try to boost prices, sources in neighboring Iraq meantime said Friday that crude oil exports from Kirkuk through the Kurdistan-Turkey pipeline have restarted, specialist news agency
S&P Global Platts reports
, "paving the way for a rise in loadings from [oil cartel] Opec's second-largest producer."