GOLD PRICES dipped and rallied again back near last week's closing level on Thursday in London, trading above $1256 per ounce as Asian stock markets closed lower but European equities rose for the 3rd session running.
Silver meantime recovered the $16 mark and platinum also pushed higher, reaching $848 after sinking Tuesday to a 14-year Dollar low on what traders
called the 'Tocom dump'
.
An overnight upswing in the US Dollar today saw the Chinese Yuan fall back towards Tuesday's sudden 11-month lows on the FX market.
Shanghai gold prices were however unchanged once more, cutting the premium over global quotes for London settlement to $2.95 – barely one-third the typical incentive for new imports to the world's No.1 gold consumer nation.
"Gold during Asian trade ultimately ended marginally lower after running into Dollar headwinds,"
says a note
from Swiss refiners and finance group MKS Pamp.
"Gold continues to see resistance above $1260…with pricing still largely determined by Dollar flows."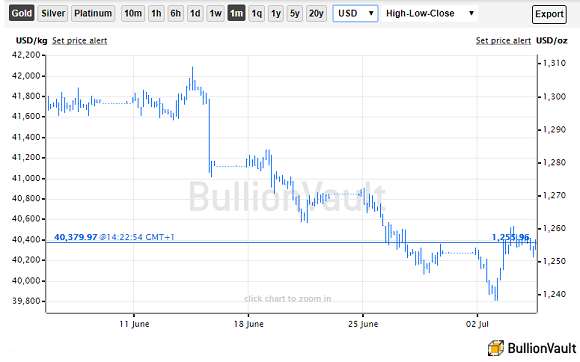 Priced in Euros gold today held at €1072 per ounce.
The UK gold price in Pounds per ounce rallied to £948, also unchanged for this week so far.
Set gold, silver & platinum price alerts: be notified when the spot price reaches the prices you select. Use Web or Android or the iPhone app today.
Delayed by yesterday's Independence Day holiday, new US data on Thursday said the world's largest economy added fewer jobs than analysts forecast on the private-sector ADP estimate for June, but May's figure was revised higher.
Weekly jobless benefit claims rose as last month ended, separate data showed.
Meeting notes from the US Fed's June rate-rise decision are due later today, with the government's official jobs estimate due out Friday.
Here in London meantime, protesters today won permission to fly a 6-meter high '
Angry Trump baby
' balloon above the Houses of Parliament when the US President visits next week.
A
speech from Bank of England chief
Mark Carney contrasted "protectionism" with "prosperity", hitting out at the "hostile" turn in official US attitudes towards world trade and blaming disruption on "talk and tweets".
A ship carrying sobeans across the Pacific is
"racing" to reach China
before it retaliates Friday against US trade tariffs on $300 billion of goods with charges on $34bn of imports from America, reports Bloomberg News.
UK home secretary Sajid Javid meantime demanded that "the Russian state comes forward and
explains exactly what has gone on
" to leave 2 members of the public hospitalized by Novichok poisoning after visiting the cathedral city of Salisbury, where ex-Russian agent Sergei Skripal and his daughter were attacked with the Soviet-era nerve agent in March.
Prime Minister Theresa May today met German Chancellor Angela Merkel at what she called
"a crucial phase"
of the UK's Brexit negotiations.
May meets tomorrow with her Cabinet to discuss and – it is planned – agree the Government's proposed post-Brexit trading arrangement with the world's single largest free-trade zone.