GOLD PRICES recovered two-thirds of this week's earlier 1.3% drop against the Dollar on Wednesday, trading up to $1286 per ounce as Asian demand edged premiums in China and India higher, and world stock markets rose yet again.
Government bond prices sat tight, keeping 10-year US Treasury yields unchanged at 2.36%, in the middle of the last month's range.
Crypto-currency Bitcoin slipped 2.0% from Tuesday's new all-time record high at $834, while silver recovered above $17 per ounce.
Gold priced in Sterling
meantime halved its earlier loss for the week, touching £972 per ounce as the Pound fell while UK finance minister Philip Hammond delivered his second Budget of 2017.
Shanghai premiums over London quotes meantime
closed Wednesday
back above their long-term average at $9.33 per ounce, as a slip in the Yuan gold price was more than offset by a 0.3% rise to a 2-month high in the Chinese currency's Dollar exchange rate
Wholesale gold premiums in India meantime edged up to $1 per ounce according to data from futures exchange the NCDEX's series for the key import terminal of Ahmedabad.
"Suggests quite healthy demand and no oversupply of gold in the local market,"
says John Reade
, chief market strategist at the mining-backed World Gold Council market development organization.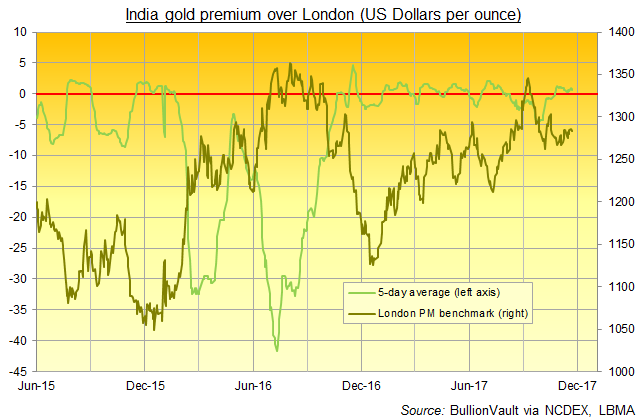 Western investment interest in contrast stayed flat Tuesday judging by the largest gold-backed trust fund – the giant SPDR Gold Trust (NYSEArca:GLD) – which ended yesterday unchanged in size for the 5th session running.
Near its smallest in two months, the GLD now needs 843 tonnes of gold to back its shares in issue.
With gold bullion rising 3.3% between July and September against the Dollar,
institutional shareholdings in the GLD
grew by 8.9% according to quarterly filings, reaching the highest number in a year.
As a proportion of all GLD stock then outstanding, institutional investors – led by asset management giant Blackrock since Spring 2016, and now followed by investment banks Bank of America-Merril Lynch and then Morgan Stanley – accounted for 39.1% as of 30 September this year.
The largest proportion since New Year, that rose from 36.4% as of end-July.
"[After] it achieved support at recent lows of $1263," says the latest gold price technical analysis from French investment bank Societe Generale – "also the 200 day moving average – [this] rebound is likely to remain contained at $1306-1313."
"Near-term resistance at $1286," reckons bullion bank Scotia Mocatta's New York office, pointing to the 50-day moving average.
Meantime in the Black Sea resort of Sochi, Russian president Vladimir
Putin today began a summit
with the leaders of Turkey and Iran to discuss the future of Syria, whose dictator Bashar Al-Assad he met at the weekend.
Opening the event, Putin is said to have thanked Turkey's Recep Tayyip Erdoğan and Iran's Hassan Rouhani for "not allowing [Sunni extremists] ISIS to take over Syria."