GOLD PRICES slipped back below $1200 for the second session running in London on Wednesday, retreating $2 towards fresh 5-week lows as the Dollar rose, 
Asian stock markets fell again but Europe steadied for a second day running as the UK government met to debate Prime Minister Theresa May's 500-page Brexit deal with Brussels on leaving the European Union.
That news saw Italy's borrowing costs blow out to a spread of 330 basis-points over comparable German Bund yields, back near last month's 5-year highs.
Euro gold prices touched new 3-week lows at €1063 per ounce while the EuroStoxx 600 equity index edged 0.1% higher.
"Messy European politics, along with a [US] Fed which is set to remain on its tightening trajectory, have kept the Dollar index above 97," says a note from Canadian brokerage TD Securities, "which continues to add to downside pressure on gold, as we expected.
"CTAs [Commodity Trading Advisers] have now pared back much of
their record-setting shorts
, [but] we suspect that a break below $1190 would prompt the [algorithmic traders] to once again increase their short positioning as downside momentum firms."
"We think the Dollar's too high,
it has to back off
," counters John LaForge, head of real-asset strategy at US bank Wells Fargo's Investment Institute.
"[Moreover] when stockmarket corrections are in the 10-15% level…which is where we are now…investors go out and look for some sort of insurance, and they typically will buy gold, even on a bounce in stocks."
Tuesday's stabilization in US equities saw giant
gold-backed ETF
the SPDR Gold Trust (NYSEArca: GLD) – a major vehicle for US money managers to track the gold price – shrink just 0.1% in size.
Since late-October's 3-month high in gold prices, the GLD has expanded by 1.8% in size, snapping its more typical pattern of growing or shrinking in size in line with the metal's price direction.
The US stock market has meantime slipped 0.7%.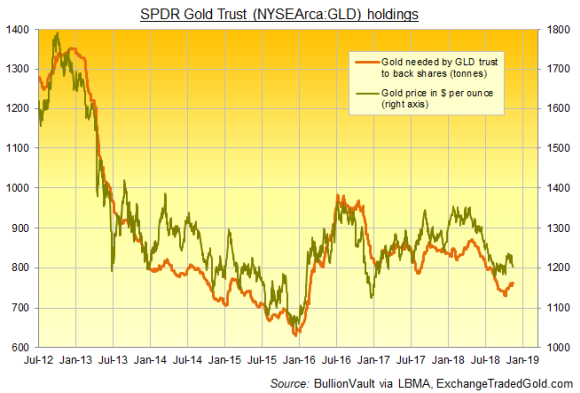 With
the S&P 500 index
of listed US corporations rising 7.2% between July and September to reach its highest ever quarterly finish, the GLD's No.1 holder Fidelity Investments grew its position in the gold-backed ETF by 3.2%, regulator filings show.
No.2 holder First Eagle – an independent investment firm running some $111bn for clients – expanded its GLD position by 16.8%, while Bridgewater Associates – the No.7 holder run by Ray Dalio with around $160bn of assets under management – kept its holdings in the gold ETF unchanged.
First Eagle's GLD holdings ended Tuesday worth some $783m, and Bridgewater's $444m.
"Gold is that one defensive area that when things get choppy [investors] do go to," LaForge at Wells Fargo told CNBC overnight.
"When stocks find a bottom here, I think we will see people buy insurance, they'll buy gold."
Gold
prices in Shanghai
on Wednesday meantime held a $6 premium per ounce to London quotes, offering an incentive for new bullion shipments into China – the No.1 gold miner, importer and consumer nation – some 25% below its 3-year average.
The UK gold price in Pounds per ounce
bounced 0.8% from yesterday's 5-week low of £922 as UK leader May today told Parliament she was
"significantly closer"
to reaching a Brexit deal with Brussels some 2.5 years after the narrow 'Leave' victory in 2016's referendum on quitting the European Union.
Rumors on Wednesday said at least 2 members of May's team refuse the deal
and will resign
, and other so-called Brexiteer members of her Conservative Party have also said they will reject it.