GOLD PRICES rose in all major currencies outside a rallying British Pound on Monday, gaining as crude oil hit 2-year highs amid political turmoil and violence in the Middle East.
Gold prices rallied back to $1272 per ounce as oil futures rose to their highest Dollar price since mid-2015, breaching $62 per barrel of Brent crude after the
weekend's "purge" and detention
by new crown prince Mohammed Bin Salman of numerous Saudi princes, senior ministers and high-profile figures including Al-Waleed bin Talal.
One of the world's top 50 richest people according to
Forbes
magazine, Al-Waleed is reportedly
one of the largest individual shareholders
in US finance giant Citigroup (NYSE:C), as well as tech giant Apple (Nasdaq:AAPL) and social media site Twitter (NYSE:TWTR). 
Saudi forces meantime launched
their "worst [yet]" attack on anti-government, Iran-backed Houthi rebels in the Sanaa province of neighboring Yemen – from where a missile was fired at Saudi capital Riyadh this morning.
Asian and European stock market recovered early losses and US equities also traded unchanged near Friday's fresh all-time record highs on the Dow, S&P and Nasdaq indices.
Last week's fall towards 3-month lows in the gold price saw speculators in US Comex futures and options cut their bullish bets, net of bearish positions, to the smallest size in 12 weeks.
However, that net speculative long position amongst the 'Managed Money' category held 37% above its historic average.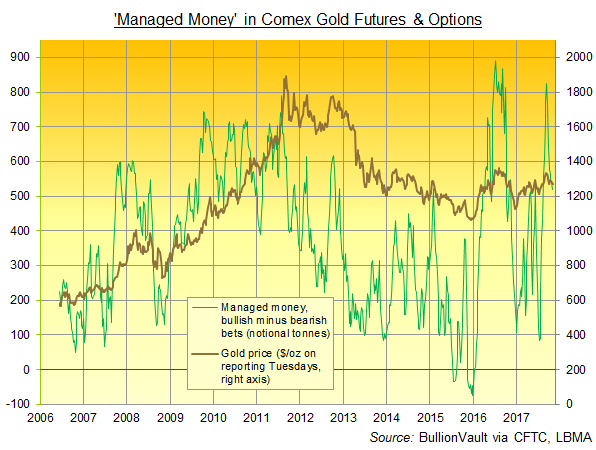 Silver positioning also retreated on the latest data, down to a 3-week low but still 134% above its historic average.
Silver today outran the small rise in gold prices, gaining 0.8% by late afternoon in London to trade at $17 per ounce – a level beaten only 6 times in the last 5 months.
Platinum also outpaced the gains in gold prices, trading up to $921 and gaining almost $100 per ounce from January's 14-year lows against the US Dollar.
"Platinum demand for [diesel auto] catalysts
fell 20% from 2007 to 2016
," reports Japan's
Nikkei
newspaper today, contrasting with a 50% rise in demand for palladium – primarily used in catalysts to clean emissions from gasoline engines.
Demand for platinum jewelry in No.1 consumer market China "has declined sharply since Xi Jinping's regime implemented its anti-extravagance campaign," the paper quotes Bruce Ikemizu at bullion and commodities bank ICBC Standard in Tokyo.
Sales of new vehicles in the UK fell 12% last month from a year earlier,
new data said today
, with sales of diesel cars falling by one-third.
Meantime in Brussels, Catalonia's "rebel" ex-governor and colleagues were told today they
have to attend court on 17 November
to hear Spain's extradition request to the Belgian authorities.
"This is not just about Catalonia. This
is about democracy itself
," claims Carles Puigdemont today in the UK's left-leaning
Guardian
newspaper.
Shanghai gold premiums today rose above $10 per ounce, just ahead of the historical average, as gold slipped more than the Chinese Yuan against the US Dollar.
"[This] physical interest out of the Far East soon provided the impetus for a leg higher" in Dollar prices, says the Asian trading desk of Swiss refiners MKS Pamp.
"Gold will be looking to interest broadly between $1265-1270 to restrict further downside moves, with further interest at the 200 [day moving average] around $1262."