GOLD PRICES rallied 1% on Friday from yesterday's new 12-month Dollar low of $1211 per ounce after US President Donald Trump attacked both China on trade and the Federal Reserve for raising  interest rates in an interview with CNBC.
"I'm not thrilled" about the Fed raising rates,
Trump told CNBC
anchor Joe Kernen in the first such comments from a US president since Ronald
Reagan challenged Paul Volcker
over his anti-inflation rate-hike policy of the early 1980s.
"All of this work goes into doing what we're doing…and every time they want to raise rates again," said Trump. "I am not happy about it.
"We have been ripped off by China for a long time,"
Trump also told CNBC
, threatening to impose tariffs on all $500 billion of China's annual imports and adding that when he asked Beijing officials how this had been allowed to happen, they said "No one ever complained before".
This time last year "Lots of bad things happen with a strong Dollar," the President said.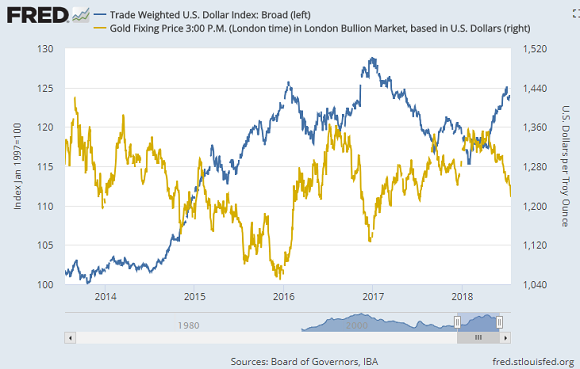 With the Dollar today hitting new 12-month highs against the Chinese Yuan at ¥6.81, Beijing's politburo "[has]
become more amenable
to a more rapid pace of depreciation than we initially assumed," says strategist Sacha Tihanyi at brokerage TD Securities.
"We see ¥7.10 as our end of year target in 2018, with stabilisation at the end of Q1 next year at ¥7.20."
Gold however traded flat in Shanghai trade Friday, cutting the premium for bullion landed in China to less than $3.75 per ounce above London quotes – less than half the typical incentive for new imports into the metal's No.1 consumer market.
No.2 consumer market India today saw Rupee gold prices fall to the lowest level in 6 months, Reuters reports, but "there is no rush of consumers," it quotes one Mumbai jeweler.
"You normally would have a better floor for prices," says Suki Cooper at London bullion market-making bank Standard Chartered, "[but]
we're in a physically weak period
" of the year.
Giant gold-backed ETF the SPDR Gold Trust (NYSEArca:GLD) yesterday saw its first inflow of investor cash in nearly 4 weeks, taking the quantity of gold needed to back its shares up 4 tonnes to 798 tonnes.
Thursday's drop in silver prices to new 12-month lows at $15.25 saw the giant iShares Silver Trust (NYSEArca:SLV) expand yet again, adding another 24 tonnes to reach 10,188 – the largest size since last summer.
"Base metals are beginning to show signs of a recovery, which may buoy silver back toward $16 in addition to supporting a recovery to the white metals, notably platinum after the metal recovered back above the $800 pivot point."
Platinum prices
rallied the sharpest among precious metals on Friday, rising 3.1% from yesterday's new 14-year lows in Dollar terms to reclaim $820 per ounce.
"Gold is facing
a number of headwinds
," says Harry Tchilinguirian, head of commodity research at French investment bank BNP Paribas, pointing to "Dollar strength, the lack of inflationary pressures, and essentially a lack of investor appetite for the yellow metal right now.
"When rates are rising the opportunity cost is rising. Why hold an asset that doesn't yield anything?"
Trimming its loss from last Friday's finish to 1.5% in Dollar terms in London today, gold also fell week-on-week against all other major currencies except the British Pound, which fell hard on the FX market amid fresh wrangling over the Conservative Government's proposed Brexit deal with the European Union.
"A
suspicious mind might think
[our] Remainer Chancellor [wants] to undermine Brexit and reduce confidence in a World Trade Deal," said economist Patrick Minford at a dinner Thursday, repeating comments made by arch-Euro-skeptic politician John Redwood blaming the Treasury for the slowdown in UK economic growth.
Also lambasting the Bank of England for talking about raising UK interest rates, "It is almost as if they wanted
to prove Project Fear right
by slowing down growth," an unnamed Cabinet minister apparently added.
The UK gold price in Pounds per ounce today rallied to £939 per ounce as Sterling fell, £1 shy of last Friday's finish.
Leaving the EU would "mostly eliminate [UK] manufacturing"
Minford predicted
ahead of the Brexit referendum in 2016.