GOLD PRICES recovered $10 of this week's $14 per ounce drop to new 2018 lows in London trade Tuesday morning, rising to $1248 as world stock markets also rallied with commodity prices as China's central bank denied it has opened a new currency front in the worsening US 'trade war'.
Governor of the People's Bank Yi Gang said Beijing will "keep the Yuan exchange rate
basically stable
at a reasonable and balanced level."
But having fallen by nearly 5% in the last 2 weeks, the Yuan sank overnight to a sudden 11-month low versus the Dollar.
Precious metals sank with the Yuan, as platinum set a new record discount to gold prices almost $440 per ounce below the yellow metal.
Silver also rallied as platinum then halved its Dollar-loss for the week so far, but it failed to recover the $16 level after setting its lowest London fix since mid-December on Monday.
Last night saw the giant iShares Silver Trust (NYSEArca:SLV) need over 10,029 tonnes of  bullion backing, its largest size in a month.
The giant SPDR Gold Trust (NYSEArca:GLD) shrank Monday in contrast, reaching its smallest size since August 2017 as investors liquidated stock and needing 809 tonnes of bullion backing.
The GLD has now shrunk more than 7% from late-April's 16-month peak at 871 tonnes.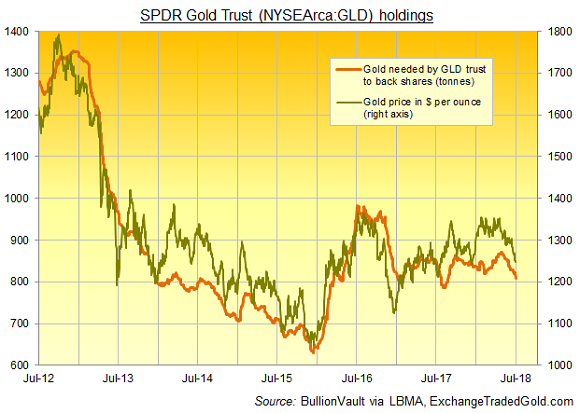 "[The] escalating dispute between the US and China [has] raised fears of an all-out trade war," says the latest weekly analysis from Japanese conglomerate Mitsubishi's strategist Jonathan Butler.
"While this could ultimately benefit gold as a safe haven, for now investors seem to be pricing in the prospects for this to reduce the US trade deficit, and therefore strengthen the Dollar."
Looking at the Yuan, "Today's
depreciation is market-driven
, reflecting the risks of a trade war," reckons Iris Pang, Greater China economist at Dutch bank ING.
"[But] there wasn't market pressure on China's currency to depreciate before," says analysis from Council of Foreign Relations expert Brad Setser.
Shanghai gold prices held unchanged in terms of the falling Chinese currency on Tuesday, squashing the Dollar-equivalent premium above London quotes further below $5 per ounce to offer the weakest incentive for new bullion imports into the No.1 consumer country since late May.
No.2 consumer India's currency the Rupee meantime sank back towards
last week's new all-time lows
, leaving domestic gold prices little changed despite the hard drop in Dollar terms.
"When you have a currency decline at these levels," the
Gulf Times
quotes Cyriac Varghese at Sky Jewellery in neighboring transport and shopping hub Dubai, "any drop in gold prices
neutralises buyer sentiments
.
"[We now] have traditional gold buyers thinking of making use of the currency decline to send funds back home [to family in Rupees]. That's what we have been seeing for the last 10 days."
Asian stock markets today rallied from a sharp drop and European equities rose steeply, erasing the last week of losses on the
Euro Stoxx 50 index
as the Euro currency held around $1.1650 – the middle of the last month's 3 cents trading range.
US financial exchange operator CBOE Global Markets today said it is opening a new stock trading venue in Amsterdam, "adding to the Dutch city's
Brexit spoils
" according to Reuters.