GOLD PRICES rallied back near last week's closing level for US and Euro investors on Thursday, as major stock markets struggled to extend their 2-day bounce and the UK central bank said business investment is slowing because of Brexit uncertainty.
The MSCI World Index hasn't risen for 3 days running since mid-September.
With gold rising back to $1230 and €1080 per ounce, crude oil retreated, as did major government bond prices.
That edged
10-year US Treasury yields
up to 3.17% – the highest rate in more than 7 years when first seen immediatey after the start of October.
The previous calendar quarter, between July and September 2018, saw global gold demand hold flat from a year earlier said data provided by the mining-backed World Gold Council on Thursday, with outflows from
gold ETF trust funds
only just outweighed by an uptick in consumer and central-bank demand.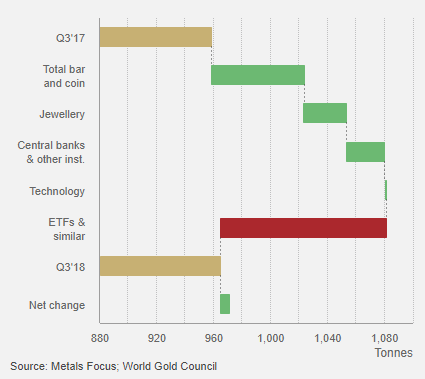 The UK gold price in Pounds per ounce rallied £5 on Thursday from an overnight drop to 1-week lows of £946 after the Bank of England kept its key interest rate and QE asset-purchases unchanged yet again.
Forecasting that inflation in the cost of living will stay "above-target for most" of its 2-year outlook, with wage growth now the strongest in a decade, "momentum in household consumption appears greater than previously expected," said the Bank's MPC statement.
The British Pound had earlier reached 1-week highs versus the Dollar after
The Times and Reuters both reported
un-named sources as saying the UK is "making progress" towards a post-Brexit deal allowing financial services firm continued access to European Union clients and markets.
The rumors say the UK should expect only "equivalence" however – meaning the EU sets all standards and can reject UK banks or brokerages as it chooses. 
Misleading press articles today on #Brexit & financial services. Reminder: EU may grant and withdraw equivalence in some financial services autonomously. As with other 3rd countries, EU ready to have close regulatory dialogue with UK in full respect for autonomy of both parties.

— Michel Barnier (@MichelBarnier) November 1, 2018
Over in India, "
gold jewelry demand
grew 10% [year-on-year in Q3] as the [summer] price dip attracted bargain hunters," says the World Gold Council's new report today.
"[So] even as the festive season is at its peak," says the Times of India, noting the arrival over the next week of Dhanteras and Diwali on Hindu calendars – by far the heaviest period of demand for the No.2 gold consumer nation – "the demand for gold continues to remain low key.
"More than 50% of gold purchases, even on [Wednesdsay's] auspicious muhurat of Pushya Nakshatra, were
made by exchanging old gold
" for re-making into new items, says the paper, rather than creating fresh gold demand.
Hitting new all-time lows on the FX market, India's
Rupee will struggle to rally
over the next 12 months thanks to 2019 state elections, plus the country's heavy trade and government deficits, according to a poll of analysts by Reuters.