GOLD PRICES traded almost $10 per ounce above yesterday's 8-week lows in London trade Thursday, holding at $1225 as world stock markets fell with government bond prices after the US Fed's meeting notes from June showed a widening split over the future path for Dollar interest rates.
New US jobs data today came in much worse than expected, with the private-sector ADP report saying US employers added a net 158,000 jobs last month, well below the 185,000 consensus forecast from analysts.
The official non-farm payrolls estimate for June is due from the Bureau of Labor Statistics on Friday.
Last week's US claims for jobless benefits today also said employment growth has slowed, with both continuing and new claims rising above Wall Street's average estimate.
Thursday's US jobs data came after Wednesday's release of meeting notes from the US Federal Reserve's June interest-rate rise decision, showing a split between voting members over the pace and extent of future hikes following that 0.25 point increase to a ceiling of 1.25%.
"The Fed grows worried its loose policy threatens US financial stability,"
says CNBC's summary
of the notes.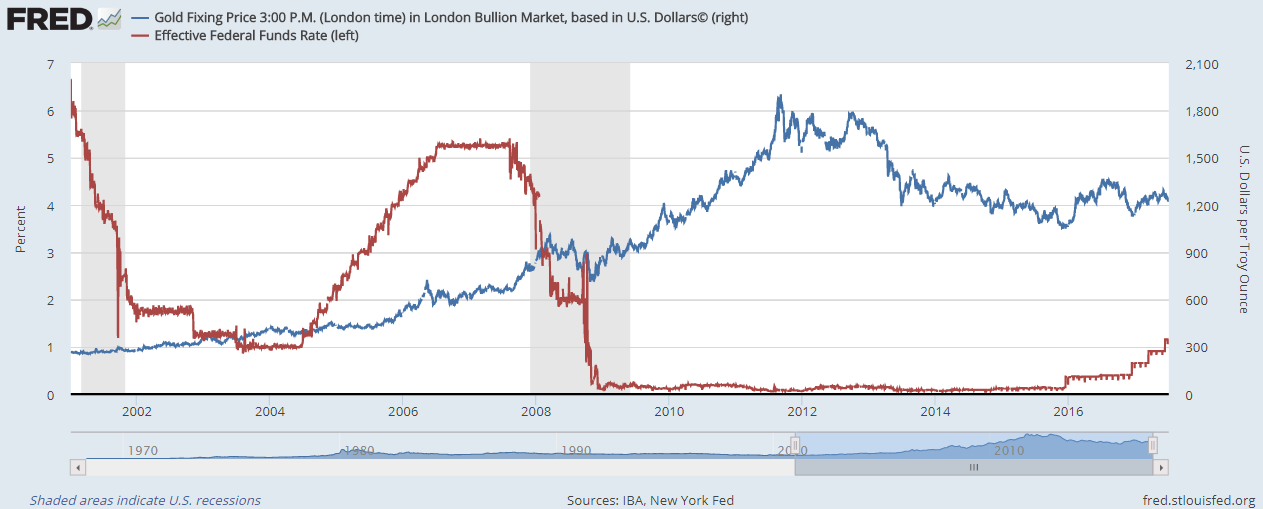 Looking at gold price action overnight, "For a second day in a row there was heavy Comex [gold futures and options] offering ahead of $1230," says the daily trading note from Swiss refiners and finance group MKS Pamp.
"Traders' next event to focus on will be Friday's NFP [US jobs] figures, which always have the potential to provide fireworks."
Wednesday's drop in gold prices to $1217 per ounce saw a second day of liquidation by shareholders in the world's largest gold-backed exchange-traded fund, the SPDR Gold Trust (NYSEArca:GLD).
Losing 13 tonnes on Wednesday, the GLD has now shrunk to its smallest size since mid-April at 840 tonnes.
Sponsored by the mining-backed PR and market-development organization the World Gold Council, the GLD closed yesterday needing 840 tonnes of bullion backing – 62% of the ETF's peak weight, hit at the end of 2012, and equal to 42% of its peak value in Dollars, hit when gold prices topped at $1900 per ounce in September 2011.
Together with the London Metal Exchange, the World Gold Council today confirmed next Monday's launch of
new gold-based derivatives contracts
, settled in London and widely seen as a challenge to the established 'over-the-counter' trade  in wholesale gold bars done between each buyer and seller directly (known as OTC).