GOLD PRICES neared their highest weekly finish against the Dollar in almost 4 years on Friday, trading 3.0% up for the week as the US currency extended its drop on the FX market.
Friday morning's benchmarking auction in London set the highest AM gold price since late January's 17-month high, finding a balance of buying and selling demand at $1358.60 per ounce.
An afternoon
LBMA Gold Price
above $1354.25 would mark bullion's highest weekly finish in US Dollar terms since mid-March 2014.
Back then, 10-year US Treasury yields stood at 2.65% against today's level of 2.88%
Two-year yields, in contrast, have jumped from 0.36% to 2.19% in nominal terms, taking shorter-term Dollar interest rates to their highest in almost a decade.
Adjusted by inflation, real 2-year rates have risen from minus 1.2% to nearly 0% on the latest US consumer-price index.
Only one month since 2012 has seen gold prices avoid a drop from four years' previously when real 2-year US Treasury yields rose one percentage point or more across the same time-frame.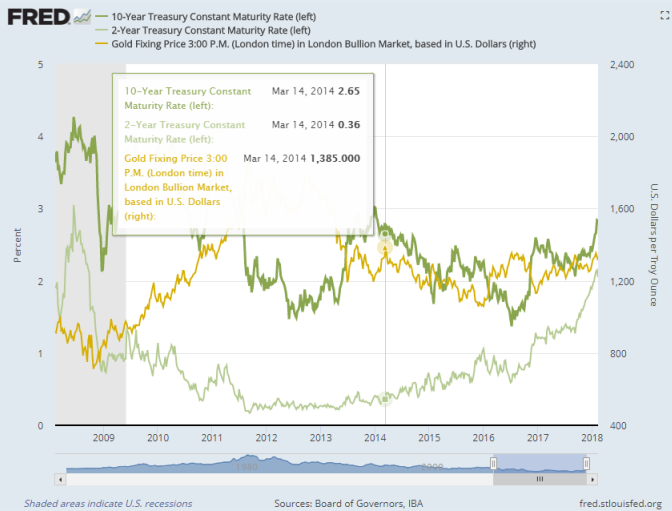 Holding strong on Thursday despite the start of the Lunar New Year holiday in No.1 gold-consumer nation China, the volume of gold matched at London's PM benchmarking auction has so far this week beaten January's daily average by almost 25%.
January's average daily volume was already the strongest since Donald Trump's election victory of November 2016 according to data from the process's
independent administrators IBA
.
January saw London's afternoon benchmark gold price set its highest monthly average since August 2013 at $1345 per ounce.
Outside the Dollar however, gold prices continued to hold near the lower-end of their recent ranges on Friday, rising to only £966 for UK investors and adding 1.3% for the week in Euro terms to €1088 per ounce.
"Can bond markets digest the huge supply of US Treasuries that will be issued this year?" wonders investment director Anthony Doyle in a blog at UK asset management giant M&G.
"In addition, some estimates suggest that the US federal budget deficit is on track to rise to over $1 trillion in 2019.
"With the Trump fiscal expansion plans likely to be funded by the issuance of short-term debt, the next few years will see a large increase in US Treasury supply."