GOLD PRICES rose against all major currencies Tuesday morning in London, nearing 2-week highs in US Dollar terms as world stockmarkets pushed higher together with bond prices.
Wholesale gold bullion prices touched $1335 per ounce, a 2-year high when first seen on the
UK's Brexit referendum result
in late June, and adding over $10 for the week so far.
Silver rose to its strongest price since 19 August at $19.60 per ounce as
copper rallied
, but agricultural and energy commodities slipped.
The Reserve Bank of Australia meantime kept its key interest rate at the
new record-low 1.5%
reached last month.
Betting on US interest-rate futures ahead of the Federal Reserve's September meeting now says the
chance of no change
until New Year 2017 has fallen to 2-in-5, with the odds of a hike in 2 weekss' time rising to 27%.
"The idea that the Fed is going to move, if not in September but in October, is
limiting people from buying gold
," reckons UBS Wealth Management's Dominic Schnider, speaking to Reuters from Hong Kong.
Some 89% of the provider's 63,000 users worldwide live in Western Europe or North America.
Gross sales of American gold Eagle coins to authorized dealers meantime
rose to 1.8 tonnes in August
, data from the US Mint show, after dipping on July's strong price rise.
That was over 40% down on August 2015 however, when month average gold prices fell to what was then a new 5-year low beneath $1120 per ounce.
Gold prices would fall another 4% to December 2015's monthly level of $1068 – the lowest average since October 2009.
August 2016 saw month-average gold prices edge 0.3% higher from July, reaching a 3-year high with their fouth consecutive monthly rise.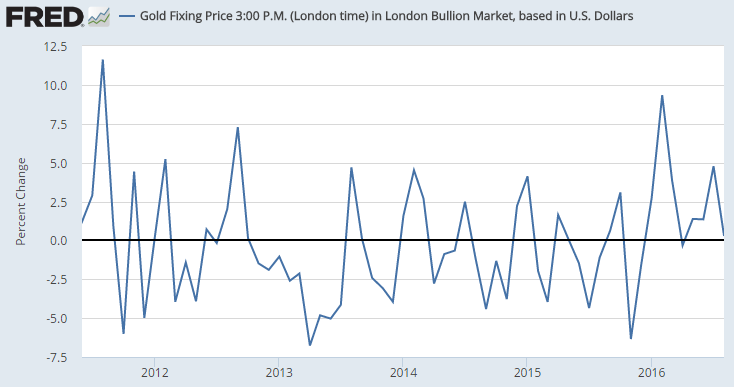 "Unless gold prices rise further, higher rural disposable incomes will revive [India's] demand for gold after the [post-monsoon]
kharif harvest
," says Aditi Nayar of the Moody's-owned ratings agency ICRA Ltd in Mumbai.
But with gold imports to the former No.1 consumer nation down to the lowest levels since New Delhi imposed a
de facto ban in mid-2013
, "Consumption of other items will also rise [on a good harvest]," says Nayar, "including consumer durables and non-durables, restricting the surplus available that can be channelled into gold."
"Given the [upwards gold price] trend over the past few months and the outlook on inflation," agrees investment group Kotak Securities' economist Suvodeep Rakshit – also
speaking to LiveMint
– "the revival in gold demand may not be very high…historically" ahead of the key Diwali festival at the end of October.